There's nothing like stepping onto a jobsite and enjoying the smell of—fresh-cut PVC?
Okay, PVC trim may not have the same je ne sais quoi that lumber brings to the jobsite, but even long-time carpenters are making the switch for a variety of reasons. Its workability, longevity, and low maintenance are all reasons to give alternative trim materials a try on your next exterior project. Here's what you need to know:
What is Cellular PVC Trim?
Every manufacturer of cellular PVC trim has its own recipe to create a material that offers a long-lasting alternative for wood in exterior applications. The plastics-based mixtures are extruded into boards, sheets, and decorative moldings that come out clean and white, are often paintable, and have a consistent texture that won't accept moisture. Other options in the non-wood trim category include polyurethane and polystyrene.
PVC Moves - But Not Like Wood
The fact that cellular PVC trim is impervious to moisture is the primary reason contractors and their clients opt to make the switch from wood. "When wood is new, there's moisture trying to escape, and when wood gets old, that moisture tries to re-enter," explains Dan Hawk, product manager for Ply Gem composite siding and trim. "It's those two things that cause wood to move and cause paint to peel. Cellular PVC doesn't have that problem at all. Moisture isn't trying to get in or out, so if you choose to paint the trim, it's going to hold that paint very well."
That's not to say PVC trim stays entirely stationary. "Wood moves due to moisture, but plastic products will expand and contract with changes in temperature," says Steve Booz, vice president of new product development and product management at Royal Building Products. "When you're trimming out a window, there's not much movement at all, but installers will need to pay special attention on longer runs of fascia or rake boards."
Booz says Royal often recommends shiplap or scarf joints for long runs. Most manufacturers also advise installations that combine mechanical fasteners and adhesives to minimize temperature-related movement. Installers should pay close attention to manufacturers' installation guidelines.
Replace Wood, Not Tools or Crews
Even traditionalist carpenters will be pleased with cellular PVC's consistent texture and density. No knots to cut out or work around means less labor and less waste. Besides that, almost everything about working with PVC trim mimics what installers already know about working with wood.
"Every time I talk to contractors about the product, they'll ask me 'how would you do' this or that," says Rick Kapres, vice president of sales for Versatex. "My answer is always, 'how would you do it with wood?' It's the same thing." Because cellular PVC takes the same fasteners as wood and doesn't require new tools for sawing or routing, Kapres says adoption becomes a lot easier. "When you see a category shift in this industry, by and large the ones that are successful are the ones that don't require the trades to invest in new tools or change their installation techniques," he says. "That's a great thing about PVC."
Moreover, the familiarity of tools and techniques makes PVC trim a viable option for contractors working with less skilled labor than in the past. Hawk says many siding materials are installed "by a specialty crews that really focuses on that material. They've moved away from having a lot of skills like framing posts." Rather than hiring a skilled carpenter to install exterior details, easy-to-install PVC trim options require basic skills that an existing crew should be able to handle.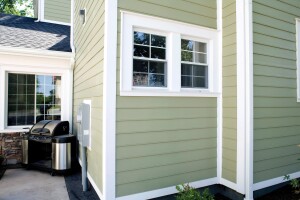 PVC column wraps are an ideal example. "If you think about the work it takes to wrap a support post," Hawk says. "To do that with wood you need to frame it up, plane it, and fit materials together all on the jobsite. It's very labor intensive. With PVC you can find column wraps for posts that virtually snap together, add some glue, and it builds out that post without all the fitting."
Going Green & Saving Green
Cellular PVC's two biggest detractors are the potential users worried about price and those worried about the environment. The fact is, the latter issue plays quite a bit into the former.
"People worry about extrusion and the effect of plastics on the environment," Kapres says. "There are plusses and minuses to everything, and PVC has a lot of plusses. The material doesn't require painting and upkeep, so it keeps those VOCs off the jobsite; and PVC is built to last, so it prevents deforestation. You're not going through tree after tree replacing the wood trim on your home."
Many cellular PVC trim brands incorporate recycled content, which can make them eligible for LEED points and recognition by other green building programs. Additionally, many brands are also recyclable, so jobsite waste can often be returned to the manufacturer and re-incorporated into the extrusion process.
It's the low-maintenance factor that plays the most into the issue of cellular PVC pricing. "In general, PVC trim is more expensive than wood and wood derivative, but the maintenance is significantly lower," Booz says. Pricing can range from two to three times that of wood, depending on the profile. Look for $1.40 to $1.75 per lineal foot for a cellular PVC 1x4, compared with less than a dollar per lineal foot for pine or cedar, plus the added costs of finishing materials and replacement costs for wood products.
"I always like to stress that you have to look past the stick-for-stick comparison, and look at the on-the-wall cost," Kapres says.
Hawk agrees. "Wood is less expensive in the short term, but that's not taking maintenance into account. They're going to look the same on day one, but homeowners need to understand what it takes to get wood to that point and keep it there, and the value proposition that PVC offers."
More about Ply Gem
Find products, contact information and articles about
Ply Gem
More about Royal Building Products
More about Versatex
Find products, contact information and articles about
Versatex