According to consumer research commissioned by Gladiator GarageWorks, homeowners love the idea of a garage that gets things done. Results from the telephone survey conducted in January 2014 showed that an impressive 88% of respondents say that a well-organized garage shows pride in a home, and almost everyone surveyed called closets (97%) and garages (96%) desirable storage areas for home storage, compared with attics or basements.
Consumers thinking about buying or selling homes also figured into the survey results. Three-quarters of homeowners (74%) said that an organized garage is important to selling a home, and 82% said a cluttered or unorganized garage can have a negative effect on a potential home buyer's first impression. Homeowners getting ready to put their houses on the market will also be interested in REMODELING's 2014 Cost vs. Value results with respect to the garage. Cost recouped for garage additions and garage door replacements were up year-over-year in both midrange and high-end projects.
Remodeling Cost vs. value 2014: Garage Upgrades, National

2014

2013
% Recouped

Change
YOY

Project Cost
Resale Value

% Recouped

Mid-Range
Garage Addition
$49,911
$34,598
69.3%
63.7%
8.8%
Garage Door Replacement
$1,534
$1,283
83.7%
75.7%
10.5%
High-End
Garage Addition
$82,311
$48,065
58.4%
54.7%
6.8%
Garage Door Replacement
$2,791
$2,315
82.9%
75.2%
10.3%
So, with homeowners getting ready to tackle some spring cleaning, use these statistics to encourage them to focus on the garage. The new products below can add that boost of curb appeal, utility, and satisfaction that everyone can use.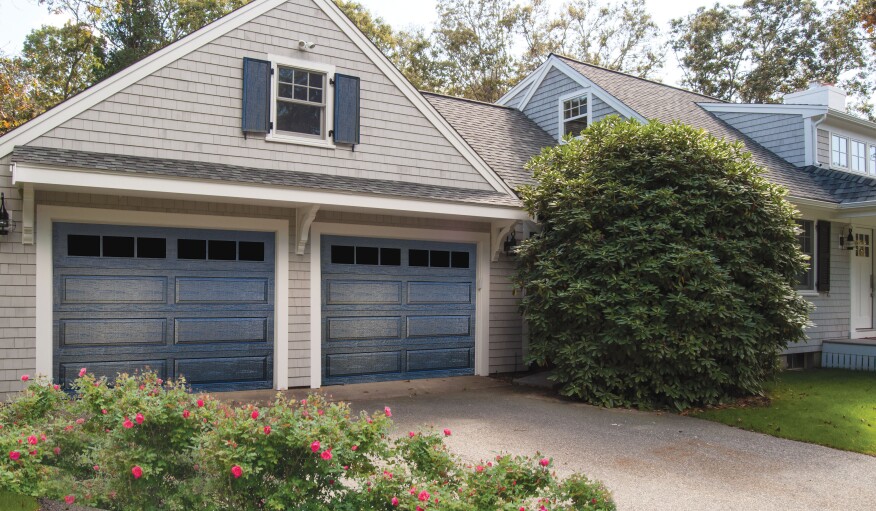 New Design Options
Overhead Door's Thermacore collection just got a style boost with two new bi-directional woodgrain color finishes, two new paint finishes, and five new window configurations. Thermacore doors feature a continuous layer of foamed-in-place polyurethane insulation sandwiched between two layers of corrosion-resistant steel. With the new finishes, the doors now offer up to R-17.5 on the inside with walnut or golden oak woodgrain, or black or gray paint finishes on the outside. Add Stockbridge windows in 2-3 or 2-4 configurations, or Stockton windows in 2-4, 2-6, or 2-8 configurations. Each window features thinner mullions than other designs, and 33% less plastic around the perimeter to increase the natural light. Overhead Door | 800.275.3290 | overheaddoor.com
Sturdy Structure
Starting a garage from scratch? The Strong-Wall SB Shearwall provides greater lateral-force resistance for a broad range of residential and multifamily applications, including garage portals and other large openings. The wall is available in dimensions ranging from 12 inches by 7 feet to 24 inches by 20 feet. Unlike other prefab walls, the SB Shearwall can be cut in the field for custom applications, and is designed to fasten to headers with convenient drill zones and a chase for wiring. Simpson Strong Tie | 800.999.5099 | strongtie.com
Black Beauty
Amarr's Olympus and Designer's Choice polyurethane garage door collections are now available in black, along with the standard color collection of white, almond, wicker tan, sandstone, and dark brown. Developed in response to consumer requests for a black finish in both the U.S. and Canada. The Olympus and Designer's Choice Collections feature polyurethane insulation with R-values from 13 to 19.4, offering energy efficiency and noise reduction. Both collections also offer a lifetime paint finish warranty. Amarr | 800.503.3667 | amarr.com
Garage Gear
Gladiator GarageWorks is adding eight new products to its lineup to help homeowners "win the battle against disorganization," says brand manager Rebecca Ross. New finishes like Everest white (pictured) will let homeowners and designers bring a new aesthetic to the garage, or highlight zones like laundry, sports, workshop, etc. Upcoming product line additions include sport lockers, gear organizers, lighting kits, and a range of other cabinetry and accessories. Gladiator GarageWorks | 866.342.4089 | gladiatorgarageworks.com
Thanks for the Lift
When cabinets and wall space are at a premium, storage has nowhere to go but up. Unique Lift makes that an easy proposition in the garage. With a capacity of 400 pounds, the lift's 32-square-foot welded steel, powder-coated basket is raised up to 16 feet by a 1/2 horsepower motor to raise seasonal items and other gear out of the way. The unit includes a master switch box, as well as a series of safety features. Unique Lift | 800.287.1014 | unique1lift.com
More about Gladiator GarageWorks
More about Simpson Strong-Tie Co.