Minimalist design and the influence of younger, hipper homeowners is making its way into the bathroom. Though full built-in cabinetry is still popular for most of the market, bath furniture manufacturers say stand-alone vanities and accessories now make up 20% to 30% of the market, and growing. "Seventy-five percent to 80% of our country still adheres to a traditional aesthetic, but contemporary style is definitely becoming more popular," says Jody Rosenberg, national sales manager for Sonia.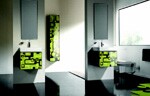 Skip Hicks agrees. "We're not seeing the appeal in the Midwest just yet, which is still very traditional, but in areas that are young and urban, and in families with two heads of household, there's growth in the contemporary bath furniture market," says Hicks, the senior bath merchant for Pegasus and The Home Depot. He adds that Chicago, New York, San Francisco, Los Angeles, and Atlanta are prime markets for this trend. Unlike traditional cabinetry, contemporary bath furniture showcases a sleeker design and open shelving. To maximize what little closed storage is available, some designs turn vanities' false fronts into U-shaped drawers that give more space for hairbrushes and grooming items, while still accommodating a sink and plumbing.
The furniture design also extends to the floor where most vanities have feet instead of toe kicks, as with the City Loft style from Pegasus (right). Other styles, such as Sonia's Atic Pop (left), have no feet at all. Rosenberg says this wall-mounted installation was ideal in a basketball player's home, where two sinks were mounted at different heights — one for the athlete, another for his average-height wife.
For homeowners who may want to try the bath furniture look without a full-scale master bath renovation, Hicks says half-baths are a great place to start. "In many homes, the powder room typically becomes an experimentation for the homeowner," he says. "The house may be decorated in a traditional style, but the powder room could have a Mediterranean flair, just to try a new style."
For more product information, visit ebuild, Hanley Wood's interactive product catalog, at remodelingmagazine.com or ebuild.com.