The sky is a different hue in Will Alphin's world. So says a colleague in Alphin's busy Raleigh, N.C., market. Indeed, when Alphin, of Alphin Design Build, unleashes his visceral design sense and his furniture-making craftsmanship to reach for the sky, he not only touches clouds, he makes waves. Alphin wishes for more time to return to architecture school, but in the meantime, he seeks well-matched clients who understand what open minds and experienced hands can hew.
"It's not just his aesthetics, but his manner," says Susan Valauri. She and her husband, Chris, were, in many ways, perfect for Alphin's laid-back, design-driven style. Busy lobbyists, they needed a remodeler comfortable with Chris's disdain for change and Susan's desire for organization. Susan was so enmeshed in the first remodel that she tracked her emotions during the six-month project (see "Dear Diary").
"I could tell Susan was very particular, and they were both very concerned about finding someone they could trust," Alphin says. By going all out to meet their expectations on the first project he designed and built for the Valauris, he got to know the couple well. So when, less than four years later, the couple decided to remodel their master bath, there wasn't a question about who to hire.
The second project, however, didn't sail quite as smoothly. The 180-square-foot job stretched to five months and the budget ballooned by 27% over initial estimates. But in the end, the remodeler delivered, again: equal measures of trust, order, problem-solving, and vision. Despite all his worries, he was rewarded with delighted clients and design honors for both projects from the local homebuilder's association.
Arch de triumph
The Valauris' first remodeling project was the kitchen -- a small (11 by 9 feet), galley-style room that was closed in and dark. The Valauris wanted an open kitchen with unobstructed sight lines to the rest of the first floor.
"We wanted an arch," says Susan, who showed Alphin a magazine clipping that became his design focus. He carried the arch theme through, using it on passages into other rooms, cabinetry over a second sink, and the window over the main sink -- an awning window with an arched transom.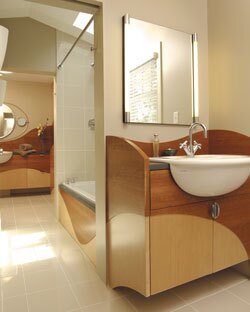 Alphin's attempt to keep the cramped spaces feeling open led to "floating" base cabinets.
To make the kitchen spacious, Alphin bumped out the rear wall 4 feet, booming in a 1,600-pound, 22-foot-long steel beam over the roof of the house to support the second story and allow for the bump-out.
Despite a rough first week (a subcontractor backed over a neighbor's mailbox), the job was designed and planned well, and it was delivered fairly snafu-free. Alphin was forced to send the cabinet installer a letter, suggesting that he finish, or Alphin would -- then bill him. The letter worked, and the six-month, cost-plus project wrapped up at $119,479, $15,000 over budget (due mostly to upgrades).
Blue nude blues
The Valauris were delighted. So much so, that when they decided on a his-and-hers master bath, Alphin was selected for the one-of-a-kind project.
Alphin's plan to connect two dark, 8-foot-square bathrooms by hanging them on the walls to make the room look bigger than it is.
The waving lines of the design and the focal point of a round mirror equip the rooms with a sort of Asian serenity and lightness. "It does have that yin and yang quality to it," says Susan Valauri.
Alphin applied three coats of finish himself to make sure no moisture would penetrate and ruin the wood.
Putting the project to bed
"'It just will not stand up to your bathroom,'" Susan Valauri remembers telling of Alphin of her bedroom furniture search. "And he said, 'Well, I can build a bed.'" Alphin did, at cost, a $3,350 "make good" for what he felt was due because of delays and budget overruns his clients suffered on the bathroom project.
"We learned a lot about remodeling in general," says Alphin about the two jobs. "Every project is different, even if a major element, like a client, is the same."
The Valauris, for their part, seem to have forgotten any unhappiness or missteps. "I've romanticized too much," admits Susan, looking over her journal. "Because the final product is so outstanding, I kind of forget the little anxieties."
"If only every client could overlook the 'little anxieties,'" Alphin says. He only hopes that he'll have clients this understanding over and over again.
Wave of Inspiration
With the original motif for the bathroom a wash, Will Alphin went oceanic, inspired by his client's suggestion of "aquatic serenity." Brainstorming yielded a number of sketches (below), some featuring contrasting woods. Alphin's "wave" is an ideal design element, connecting the tub face, privacy panel, and cabinets, and making three rooms flow together.
The job of putting it all together was left to Robert Stone, Alphin's veteran woodworker. He built the boxes and cut the doors out of 3/4-inch maple plywood. He and Alphin laid pieces of 1/4-inch cherry plywood down and drew a rough outline. Stone then cut the cherry with a jigsaw and used a belt sander to get it exactly right, making an on-site adjustment to have the wave dip more sharply under the mirror in the "hers" bath. He attached the cherry to the maple with regular wood glue and used cherry veneer for the edges.
"I wasn't sure I was gong to like the finished product as much as I did," Stone says. "But what is really important is that the clients are happy with it."
They are. "I just think it's a piece of art," says Susan Valauri. "I love that bathroom."
An Artist's Apology
He started seven years ago with a table saw and a car full of tools. Although he now logs $1 million a year, Will Alphin, 36, loves the artistry of remodeling. He once made fine furniture, and he still clips a tape measure to his belt. He bears a speck of disdain for the business side: "It's something I do to facilitate doing what I want to do." But moving from this first job on the kitchen (one of his larger projects at the time) to the second, he reflected on his numbers, and decided his 20% markup wasn't covering costs.
Susan Valauri lays claim to Alphin's increase. "He'd be in the kitchen solving problems -- that seemed like his major role in life," Valauri says. "I remember saying, 'Will, I'm not paying you enough.'" Alphin says he was thinking of raising his markup by 5% anyway. As a cost-plus contractor, he marks up all but labor at 25%, with labor marked up 40%.
Alphin figures his overhead at 13% and his profit at 12%, but he isn't 100% sure. He hopes to become an architect by age 40, but it doesn't appear he'll devote much time to studying the financial ins and out of business. "I make a decent living," he says. "My prices aren't much lower from our competitors. I apologize for not being more scientific or more analytical about it."
Dear Diary
Like most people whose homes undergo a major remodel, Susan Valauri was a little nervous when Alphin Design Build began work on her kitchen in the spring of 1998. To deal with her anxiety, she kept a journal. "It really was a stress-reliever to put [my thoughts] down on paper," Valauri says.
Her reflections provide insight into the apprehension that every client goes through. And in the end, contractor Will Alphin was able to allay those fears. Here are a few excerpts from the journal.
May 6
Surprisingly, given my task orientation and need for structure, I'm handling this amoeba pretty well.
May 18
To my untrained eye, the "expansion" looks incredibly small. Did we go far enough?
June 23
I think Alex (her dog) is expressing the feelings we are all experiencing -- I found him in the fetal position in the upstairs closet. He clearly doesn't like all the banging and tramping in and out of the house.
September 1
I was telling Will last night that every day is a real treat: It's like opening up a new present every night when I come home.
December 18
Liberation day! Well, almost. Dan has completed 99% of his painting assignments.