A gleaming, stainless steel range hood can be a stunning centerpiece in a luxury kitchen. High-end ventilation hoods account for 40% of total revenue in the hood industry, according to numbers from Zephyr Ventilation. Companies are showcasing hoods with sought-after design and high-tech features.
Tamarack Technologies. The Ghost whole-house fan touts a unique suspension system that lifts it away from the living space while keeping its operation contained and concise. The two-speed fan blows at 2,800 cfm on full speed and features a two-speed, radio frequency remote control. Its small footprint fits between 16- or 24-inch on-center rafters. 800.222.5932. www.tamtech.com.
Bosch. The streamlined look of the DKE94 range hood makes for unobtrusive style in the kitchen. The hood, offered in black, white, and stainless steel, features surface lighting, dishwasher-safe filters, and maximum coverage with its 440 cfm blower. It also offers a recirculating option when outside venting is not possible. 800.921.9622. www.bosch appliances.com.
Broan. You'd never know this gorgeous lamp was also a ventilation fan. Offered in five finishes, including the popular oil-rubbed bronze, the Designer Light/Fan adds a touch of elegance while providing 70 or 80 cfm. The fans exhaust air through inconspicuous vent openings in the light fixture's base. www.broan.com. 800.558.1711.
Jenn-Air. The company's stainless steel hoods feature high-performance features such as a 650 cfm blower, electronic touch controls, and a delay-off feature that will turn the blower off automatically after 15 minutes. In addition, the company now offers a powerpack-only option that allows builders to custom-build around the blower. This option is available in 36-, 42-, and 48-inch models. 800.536.6247. www.jennair.com.
Electrolux. Part of the company's ICON line, three range hoods boast European design and up-to-the minute features. All have halogen lighting and electric multifunction touch control. A dual centrifugal blower fan system with four speed settings removes aromas and steam quickly and quietly, the maker says. Shown is the 36-inch PLHV36W7CC. 800.243.9078. www.electroluxusa.com.
.Zephyr Ventilation. Designer Fu-Tung Cheng partnered with the company to create a line of stylish range hoods. The Trapeze, designed for use with cooktop islands, showcases gentle, architectural-sculpted lines with its slow-curve canopy and cylindrical chimney. The satin-finish, stainless steel hood is available in 48-, 54-, and 60-inch widths. 888.880.8368. www.chengdesignbyzephyr.com.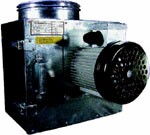 Exhausto. The BESF box ventilator is designed for high-performance, whisper-quiet operation, says the maker. It can be installed in the garage, attic, basement, or nearly anywhere else, and can be controlled by virtually any hood speed control. The fan offers capacities from 500 cfm to 5000+ cfm. It is equipped with a completely enclosed motor, and the housing opens for easy access to the blower wheel and the duct. 800.255.2923. www.us.exhausto.com.
Dacor. Sleek, minimalist design distinguishes the Millenia line. The 9-and 18-inch tall hoods come in 30-, 36-, and 48-inch models. They feature dimmable halogen lighting and internal variable-speed blowers. Smooth touch controls leave the clean lines of the hoods' heavy-duty stainless steel construction uninterrupted. 800.793.0093. www.dacor.com.
For more product information, visit ebuild, Hanley Wood's interactive product catalog, www.ebuild.com.
More about Zephyr Ventilation