Our editors are discovering even more new and exciting product displays at the NAHB International Builders' Show. Here's their top finds for Day 2.
Small and Stylish
Haier, the Chinese company with the German-sounding name and (since last June) a new U.S. subsidiary in GE Appliances, played to its specialty by showing off a line of kitchen gadgets that can fit into what for Americans are small apartments. But being petite doesn't preclude having some class, too. As an example, here's a 24-inch-wide slanted chimney range hood with four speeds and the ability to move 450 cubic feet of air per minute. It uses 3-layer washable filters (accessible by opening the front of the unit, as shown in the photo) and sports halogen lights. HaierAmerica.com.
Insane in the Membrane
BASF says membrane tape is old news. First released to the commercial market six months ago, and just released to the residential market this week, is BASF's new MAXFLASH liquid flashing membrane. The new product can be applied to damp surfaces and withstands immediate rainfall. In 30 minutes, the membrane is tack-free, and in just 6 hours, the application is cured. Applied in a smooth S-shape, shown here, MAXFLASH is then smoothed across the surface just like spackle. The product can be found via professional suppliers. basf.com
Open Sesame… By Waving Your Hand
Imagine you're hosting friends for drinks in the summer and you're carrying a tray full of margaritas – how are you going to open that patio door? With Andersen's newest addition, you don't have to worry about the balancing act. Accompanying the introduction of the multiglide doors is automation powered by Stanley. Small remotes installed next to the opening of a door can be powered by keycode or motion control. With a simple wave of the arm, the door can acknowledge the presence and open the door for the user, and close it behind her. While other window companies are showing off some automation, none have featured the gesture control as simply as Andersen. andersenwindows.com
It's Faux Real
LP Corp. took reclaimed barn wood that sells for $12 to $20 per square foot, photographed it, and then imprinted the barn wood's images on a version of its LP SmartSide product that even includes some of the reclaimed wood's texture—only without splinters and holes and in an easy-to-clean format. LP plans to begin marketing the faux barn wood in Chicago starting around March and then do a bigger rollout in select markets starting around June. LPCorp.com
Dustpans Be Gone
Diamond Cabinetry, a division of MasterBrand, introduced its new Toekick Vacuum. The device is designed to eliminate the need for a dustpan, allowing users to sweep debris from the kitchen floor directly into the vacuum. It's activated with the touch of the toe and collects debris in a drawer that comes equipped with a disposable bag. The vacuum is designed to be no higher than the kickplate so that homeowners still have full use of the cabinet above. diamondcabinets.com
Best of Both Worlds
Tando debuted its new TandoShake and TandoStone at the 2017 International Builders' Show. The new brand combines technologies from Novik and Exteria Building products, which Novik acquired in June 2016. TandoShake looks like real wood shingles without the upkeep associated with wood. TandoShake line will be offered with SignatureStain. Available in six different colors, SignatureStain not only makes the wood look real, but also offers UV protection. TandoStone offers the look and feel of real stone veneer and is low-maintenance for the homeowner. TandoStone also comes in six colors. tandobp.com
How the Jetson Family Did Their Laundry
Laundry Jet is an in-wall laundry transportation unit that allows homeowners to put dirty clothes, bedding, and linens into a vacuum shoot to be sent directly to the laundry room. Homeowners deposit their items into a jet port which can be installed in bedrooms, bathrooms, or closets. Opening the jet port activates the vacuum. The items are sucked into the PVC tubes connected to Laundry Jet and are deposited into the laundry room via the wall-mounted vacuum unit. The company says that Laundry Jet works with both dry and slightly damp items. laundry-jet.com
Rainwater Tank
The 1,700-gallon Carat underground tank from Graf is ideal for residential rainwater harvesting and stormwater management. It provides a water yield of over 95% and comes with a low-maintenance filter. Made of durable compression-molded plastic, it comes with a transparent lid for filter visibility. Rainharvest.com
Tee Time
Indoor golf simulators are the latest amenity craze for residential communities and the system from About Golf uses the same technology as elite teaching academies. Endorsed by the PGA TOUR and The Golf Channel, it comes with more than 60 courses, 18 practice venues, and multiple scoring options. Aboutgolf.com
Custom Shower Experience
The U by Moen shower offers mobile connectivity and unmatched personalization, providing homeowners countless ways to create their ideal showering experience with the push of a button. The unit includes a digital valve that offers precise, thermostatic temperature control, and enables the user to connect up to four shower devices. Users can create a personalized shower experience from their smart phones, turning on the shower and changing water temperature with the push of a button. Moen.com
More Bubbles per Tub
Bestbath introduced a 60x32-inch tub shower unit in which the tub's sides are narrower than typical tubs, thus providing users a wider space and longer leg room to enjoy their bath. The tub shower unit comes in a single piece and is meant for new construction of single- and multifamily units; a similar unit that comes in parts already is available for remodeling jobs. Bestbath.com
Your Own Personal Barista at Home
There's a new way to wake up to the smell of coffee in the morning. Thermador has launched a new Built-In Fully Automatic Coffee Machine to its line of kitchen appliances. The integrated, flush-to-cabinet machine is a whole compressed coffee shop that makes all kinds of drinks from a cappuccino to macchiato. Users can scroll through the display to customize everything from drink type and size to strength and temperature. The entire system is self contained and easily opens to clean or change the beans. The machine can save up to 8 different personalized drinks for spouses, kids, or frequent guests. thermador.com
Eco-Friendly Flooring Options
Cosentino, a brand known for its environmentally-friendly and sustainable flooring surfaces, has achieved a new first with its Dekton line. This year at the show, the company has introduced two new color designs called Sand Drift and Bedrock, both of which are the first surfaces in the line to use 100% post-industrial recycled content and leftover material from the company's production of its other colors. cosentino.com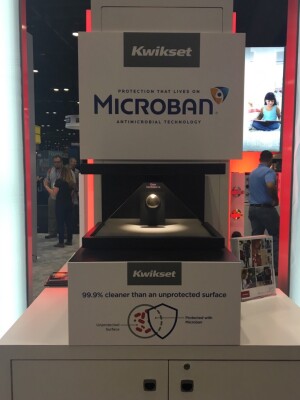 Germ-Free Doors
Anti-microbial technology has been frequently implemented into kitchen and bath surfaces, but now Kwikset has incorporated germ protection into a part of the home that's often forgotten when cleaning: the door handle. The company has partnered with Microban to create a new door knob that is powder coated with an anti-microbial finish that kills 99.9% more germs than a standard handle and lasts for the lifetime of the product. Kwikset is the first lock manufacturer to offer an anti-microbial door knob. The hardware with Microban ranges between $13 and $50. kwikset.com
Hidden Benefit
Simpson Strong-Tie's Outdoor Accents line of screws look like bolts, but they actually are structural screws surrounded with a bolt-like hex head washer. The result: Faster installations that retain traditional looks. Strongtie.com
This article originally appeared in BUILDER Magazine.
More about BASF Corp.
Find products, contact information and articles about
BASF Corp.
More about Best Bath Systems
More about Kwikset Corp.
Find products, contact information and articles about
Kwikset Corp.