Avonite Surfaces. Now numbering eight nature-inspired hues, crater and summer have been added to the Recycled Products surfacing line. Crater offers a basic black accented with red, yellow, gray, and brown; summer features a cedar-green base with black, gray, and clear flecks. All products in the line are SCS-certified, guaranteeing a minimum of 40% pre-consumer recycled content. 800.354.9858. www.avonitesurfaces.com.
Bosch. Ramp up utility savings with the Evolution SHE98 and Integra SHX98 dishwashers. Both models exceed minimum federal energy standards by 147% with yearly use of just 190 kilowatt hours — about the same as dishwashers half their size. Features include EcoOption, offering further energy reduction; Eco-Sense Wash Management, which customizes the wash according to soil levels; and a Half Load cycle that lets users run the dishwasher half full, reducing time, water, and energy use by 30%. 800.921.9622. www.boschappliances.com.
Homax. Keep restoration projects environmentally friendly with Jasco Green Strip. The low-VOC, low-odor, biodegradable solution uses no harsh methylene chloride and is safe to use indoors. Ideal for removing varnish and latex or epoxy paint from wood, metal, and masonry, the fast-acting gel clings to vertical and carved surfaces, making it useful on ornate items. Green Strip is available in ½ gallon and quart sizes, or a 22-ounce trigger spray. The spray formula works best on carved surfaces as it atomizes in a 10-inch spray pattern. 800.729.9029. www.homaxproducts.com.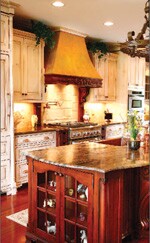 Mouser Custom Cabinetry. With a focus on waste reduction and using more environmentally responsible materials, Mouser Custom Cabinetry has been certified by the Kitchen Cabinet Manufacturers Association's (KCMA) Environmental Stewardship Program. Under annual review from the organization, Mouser will continue to produce its custom designs in a facility that focuses on air quality, resource management, and other environmentally responsible practices as set forth by KCMA. 800.345.7537. www.mousercc.com.
More about Integra
Find products, contact information and articles about
Integra