Owens Corning. The PINKCap is a polystyrene foam cover for attic stair openings that provides an R value of 11 when installed properly. It reduces air leaks through the attic stairwell by up to 85%, the maker says. 800.438.7465. www.owenscorning.com.
Icynene.
The Icynene Insulation System is a 100% water-blown, soft foam insulation and air barrier. It air-seals cavities to minimize the intrusion of moisture and outdoor pollutants and minimizes air leakage for increased energy efficiency, says the maker. It is ideal for application in rim joists, attics, or around windows and doors. 800.758.7325. www.icynene.com.
CertainTeed.
SpeedyR tabless batts eliminate the need to staple flanges to hold the batt in place. It is easier to cut and less confusing to install, the maker says. Designed for use in standard-width wood-framed construction where a vapor retarder is needed, the batts have kraft-paper facing without flanges and can be friction-fit between wall studs for non-exposed applications. R-13, R-19, and R-21 batts are available. 800.233.8990. www.certainteed.com.
Fi-Foil.
RBI Shield reflective bubble insulation is a multipurpose reflective insulation and radiant barrier for roofs, floors, slabs, and walls. Available in double and single bubble, the insulation provides high energy efficiency by reflecting 97% of radiant heat, the maker says. It has been tested to ASTM standards and comes in several widths in 125-foot-long rolls. 800.448.3401. www.fifoil.com.
Johns Manville.
Spider is a formaldehyde-free, spray-in insulation system made from specially designed glass fibers. During installation, the fibers are mixed with a non-hazardous adhesive that eliminates the need for netting. The system has been tested to reach R values of 15 in 2x4 wall cavities and 23 in 2x6 wall cavities. The adhesive dries in only two to eight hours, says the maker. 800.654.3103. www.jm.com.
LIT Industries.
The RapidWrap line of thermal insulation blankets is designed for use on virtually any piece of equipment, including diesel exhaust systems, gas turbines, compressors, steam turbines, pumps, and flanges. Able to withstand temperatures up to 1,200 degrees, the asbestos-free blankets can reduce sound transmission, enhance employee safety, and improve product reliability, the maker says. 866.552.5580. www.litnc.com.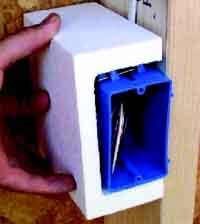 Pine Ridge Builders.
EnergyBlock is a block of foam insulation specifically molded to fit around standard electrical boxes. The result is a near perfect seal around and behind every electrical box that essentially eliminates air infiltration in both directions, the maker says. It provides solid R-10 insulation behind the outlet, reducing the chance of mold forming due to moist inside air escaping and condensing on the exterior wall. 701.320.1111. www.energyblock.com.
Falcon Foam.
Offered in plain, poly, or foil facing, ThermalStar laminated polystyrene sheathing offers higher insulating value while providing a smooth, level surface for siding application. The foil facings offer a reflective surface. When used in conjunction with ¾-inch airspace, the sheathing can provide 2.77 R additional thermal value. Foil facing can be provided on one or both sides of the product. 800.917.9138. www.falconfoam.com.
For more product information, visit ebuild, Hanley Wood's interactive product catalog, at www.ebuild.com.
More about CertainTeed
Find products, contact information and articles about
CertainTeed
More about Johns Manville