If the changing weather has your clients dreading the idea of shivering through another bitter winter in their own homes, you've come to the right place. A variety of underlayments, inserts, sealants, and special touches can turn even old drafty homes into cozy retreats. And since several of these products work in small projects that won't break the bank or take all season to complete, you'll be playing football in the back yard before you can say "adjust the thermostat."
Warmer Weather
Could a towel-warmer be your key to a cozier winter? The new square bar design in Amba's Radiant collection of wall-mounted towel warmers can add a contemporary flair to bathrooms or laundry rooms, along with just the right amount of warmth and heating. Made of 304 stainless steel, the towel warmers are also available in straight tube or curved horizontal bar styles in brushed and polished finishes, and plug-in or hardwired versions. The maker's Dry Element Technology allows the unit to heat up in as little as 15 minutes to make towels toasty while you're showering, or to help dry post-shower towels, or mittens, hats, and scarves after a fun day in the snow. At 150 watts, the warmers aren't big power consumers, and can incorporate programmable timers for additional control. ambaproducts.com
Seal the Deal
DAP has updated its Dynaflex 800 Advanced All Weather Sealant Formulation in time to air-seal windows and doors before cold weather sets in. Developed for window and siding installation professionals, the sealant won't shrink or crack, which translates to a long-lasting, flexible seal that keeps out air and moisture. If temperatures are already dropping where you are, Dynaflex 800 Advanced is still up to the task, offering application in temperatures as low as 0 degrees F, or as high as 120 F in the summer, and can adhere to damp surfaces. The low-odor, easy-tool formulation is VOC compliant. A full cure takes 24 hours, but the sealant is paintable after one hour. In addition to windows and siding, Dynaflex 800 Advanced is ideal for trim, flashing, doors, gutters, ducts, and vents, and adheres to a variety of substrates. dap.com
Ice Dams Be Gone
Designed with all the benefits of original Ice & Water Shield, Grace Construction Products' Ice & Water Shield HT has the added virtue of formulation for high service temperatures. Ideal for use under metal roofing systems, the underlayment's proprietary adhesive resists temperatures up to 260F and forms a watertight bond to the roof deck to seal around fasteners. The result is an underlayment that protects roofs against wind-driven rain and ice dams. Ice & Water Shield HT can also handle longer-than normal exposure time with 120-day UV stability. Each roll covers two squares. grace.com
A Welcome Mat
Warm the home from the floor up with the new In-Floor Heat system from HB Fuller Construction Products' TEC Skill Set brand. The UL-approved floor warming option uses infrared radiant heat technology that allows tile contractors to efficiently install heating with uniform warmth beneath tile and stone floors. Each kit includes a heat mat with attached wire harnesses, scissors, and edge-sealing tape. Multiple mats can lay side-by-side for even heat distribution across large surface areas, and at less than 1/64-inch thick, Installers will appreciate that the mats will not alter the height of the floor. The system is controlled by a TEC Thermostat, sold separately and installed by a licensed electrician. hbfuller-cp.com
Insert Window Here
Homeowners don't have to suffer through a cold winter just because new windows aren't in the budget. Indow window inserts are custom built for each window with laser-measured accuracy, and feature gasket that seals tightly inside existing jambs. The inserts offer 94% of the insulation of a standard double-pane window, and the acrylic panes helps achieve an R value of 1.87 when used over single pane windows. Third-party testing found up to a 20% reduction in HVAC with Indow inserts, which also help dampen noise by up to 10 decibels, equating to a 50% noise reduction. In addition to the energy and sound benefits of Standard Indow inserts, the maker also offers inserts designed for privacy, room-darkening, further sound dampening, and UV-blocking. indowwindows.com
Warm Up, Chill Out
Milwaukee's popular line of M12 Heated Gear will include a variety of options to keep your whole team working comfortable this season. The 2015 line will include the new M12 Heated 3-in1 Ripstop Jacket that pairs a heated hoodie with a Ripstop shell, both of which are designed with water resistance and specially designed heating and insulation for warmth. The M12 Heated Ripstop Vest offers the same durability as the jacket, but with more versatility during fall and spring. Ladies on the crew will appreciate the completely redesigned women's jacket with a better cut, improved styling, and optimized heating zones. The heated jackets will feature improved runtime over previous models, and the M12 Heated Hoodie will be available in a new color option. Now sold with an M12 RedLithium 2.0 battery, Heated Jacket kits and provide up to 8 hours of heat for a full day of work on one battery charge. milwaukeetool.com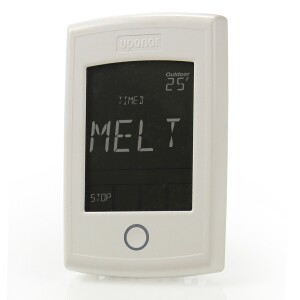 Clear the Way
Keep driveways and pathways free of slip-and-falls due to ice and snow with Uponor's Single-zone Snow Melt Control. The device can operate a radiant or hydronic heating system to melt snow and ice from exterior surfaces. The low-cost solution include idle mode and warm weather shut down or cold weather cut out, and can be used with either a pavement or aerial snow sensor. uponor.com
More about DAP Products
Find products, contact information and articles about
DAP Products
More about GCP Applied Technologies Inc.
More about Milwaukee Electric Tool Corp