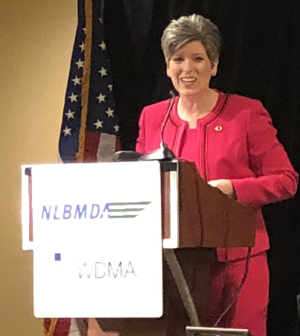 Building material dealers and representatives from window-making companies went to Capitol Hill today with a list of requests that included changes to the lead-paint rule.
The visits were organized by the National Lumber & Building Material Dealers Association (NLBMDA) and regional LBM groups, as part of a legislative conference co-located with a meeting of the Window and Door Manufacturers Association. Aside from lead paint, the dealers also talked about renewing the Softwood Lumber Agreement with Canada, boosting craft and technical education, ande permitting guest workers as part of immigration reform.
The Environmental Protection Agency's Lead: Renovation, Repair and Painting (RRP) rule has good intentions and bad results, Sen. Joni Ernst, R-Iowa, told the group at its breakfast meeting. "Its implementation was fraught with problems that created unintentional consequences," Ernst said. "What sounds great may have secondary and tertiary effects." She noted that EPA's rule is going through a mandated period of self-examination, with a report expected next month. "I hope this rule will be revised in a manner that doesn't unnecessarily burden our window and door manufacturers and remodelers," Ernst said.
Exposure to lead paint has been found to pose particularly health dangers to children, the elderly, and pregnant women. Lead paint was banned in 1978 for use in homes, and in homes built before then health risks have arisen when renovation work generates lead dust. Renovators who find lead paint is present—or who aren't sure—must use lead-safe practices when they work on the home. They must get training and be certified to work in such situations.
NLBMDA members asked members of Congress to suspend enforcement of RRP in cases where there aren't young children and pregnant women until an EPA-compliant test kit is commercially available. At the same time, EPA should focus on non-certified firms and individuals, as well as give de minimis exemptions for first-time paperwork violations by certified firms, the association believes.