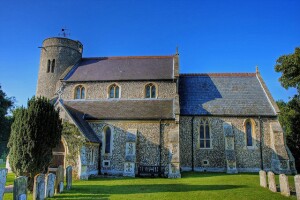 The 14th century Church of All Saints, Houghton Conquest, is located in Bedford, England, north of London, and like many old churches in England had a roof made of lead. The prize was too tempting for thieves who stripped the entire roof off the historic building. An architect who assessed the damage said it was one of the worst incidents of its kind he'd ever seen.
It will cost the parish £400,000 (about $524,000) to replace it. Insurance will amount to just £15,000 (less than $20,000) because the building did not have a roof alarm. The church has a temporary roof covering to keep rain out, which should give church officials a couple of years to find a permanent fix. Other British churches have suffered the same indignity. One option is to use stainless steel, which is both less expensive and less apt to be stolen than lead.
Parish treasurer Joyce Bullock told the BBC that donations have already started to come in, including one from New York.
"It is always hard to raise funds in a small rural area, but we will do it," she said, adding that she expects and she expects grant applications to become her "full-time job."
Mlchael Angell, the church operations director for the insurer, encouraged churches to be vigilant about the possibility of theft.
"Since 2015, we have seen an increase in large thefts perpetrated by organized gangs, which involved the removal of entire church roofs," he said. "This trend has not declined, and as the value of lead continues to increase, it is fair to assume that the volume and severity of incidents of metal theft will also increase."
Read More