Michael Houar, owner/president of Hawaiian Repair and Remodeling in Wailuku, Hawaii, offers customers a five-year labor and workmanship warranty on the vinyl siding jobs his company does. Vinyl siding jobs make up about 20% of the company's $1.5 million volume. The warranty is pro-rated over a five-year period, with the company paying 100% of the cost of repairs the first year, 80% the second, and so on. "For example, in the third year," Houar says, "customers have the choice of using us to perform any type of warranty service and they agree to pay 40% of the labor cost. After five years, they'd pay all the labor cost."
Damage control
His company, Houar says, once provided longer warranty periods. He now considers them unrealistic. "Workmanship and labor are not normally the reasons for service calls," he explains.
Gary Schoengold, president of National Energy Conservation Corp., Olney, Md., would agree with that. In 95% of cases, Schoengold estimates, service calls involve not installation defects such as warping or waving -- which come from nailing the panels on too tight -- but from some kind of customer-caused damage to the material. Examples he gives include siding that melted after exposure to the heat from a grill, siding shredded by weed wackers, siding that cracked and fell off when someone drove a car into the side of the garage, or siding pierced by the cable man ("our nemesis," says Schoengold), who didn't bother asking the homeowner where he wanted the cable run.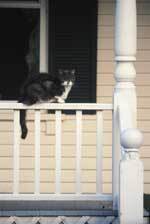 Recently a client who'd had National Energy install siding eight years before -- including special trim work around a cat door -- called to inform Schoengold that the cat had died and requested that National Energy re-side over the pet door. "We did it," says Schoengold, who estimates his company spends $40,000 a year on warranty service calls -- a total that's higher than what the company spends on advertising each year. But those service calls help build the company's strong referral base. The majority of National Energy's jobs today come from referrals.
Sales tool
National Energy performed that work and responds to similar problems without a charge. The company's contract includes a labor and workmanship guarantee good for as long as the customer's in the home, a policy Schoengold put in place three years after founding his company in 1981. Lifetime guarantees help close a sale.
The company has systems in place to make lifetime maintenance run more smoothly. To make matching the existing siding easy, on completion of a job, National Energy crews routinely leave five or six siding panels for the homeowner to store on the premises, in case of future service callbacks.
Rob Barnes, owner of Sigma Windows and Remodeling, Jacksonville, Fla., offers a two-year warranty on his company's vinyl siding jobs, though Florida law mandates only a year's guarantee of labor and workmanship.
"If anything is going to go wrong," Barnes says, "it's certainly going to go wrong within one year. We offer the additional year for additional piece of mind."