Barely 29% of remodelers surveyed prepare a marketing plan and budget each year, and 80% spend 3% or less of annual revenues on marketing.
What's holding them back? Well, nearly 20% say they have more leads than they can handle, and 72% either say they can't afford marketing or don't have the time for it. About 60% develop their own marketing ideas, and 75% spend three hours or less planning or working on marketing each month. And of those who do market, 31% say they don't market frequently enough.
Those who market their business find that the most effective methods are job signs, direct mail, and newspaper advertising.
Web sites also are becoming more of a factor in winning business.
What Is Marketing? Definitions & Costs How do you define a lead?
Annual marketing expenditures, as a percentage of revenue
Average cost per lead (marketing cost divided by total leads)
Cost per sale (marketing cost divided by number of sales)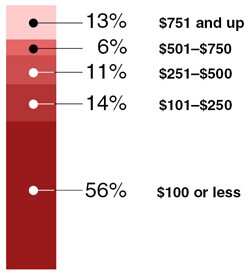 Do you spend enough money on marketing?
What's The Plan? Creating & Tracking Who creates your marketing materials?
How do you track your leads?
If you market, do you market frequently enough?
Top 7 most effective marketing methods
Job signs
Referrals/word-of-mouth + other
Direct mail
Newspaper advertising
Yellow pages
Home shows
Web site
Top 6 months for advertising (if marketing once a year)
January
March
February
October
November
December