Marketing is useless without an impressive brand to showcase. The first interaction your company will have with potential clients always involves your brand. Whether it's through the company name, logo, or uniforms, it is important to make sure first impressions are positive.
1. Brand Evolution - Did your company start out primarily remodeling bathrooms, but has changed since? Or do you feel like your brand needs an upgrade, but you're worried about confusing clients? If you have expanded your services or are enhancing your brand, try to keep a fundamental element of your name that clients will still recognize. For example, SilverBullet Inc. Design/Build of Minneapolis became SilverMark Design & Build. They evolved, but preserved part of their original brand.
2. Keep it Simple - If your company is named "Premier Remodeling," make sure your website is premierremodeling.com, or as close to that as you can. You should be putting this URL on every job sign, truck, trailer, billboard, and advertisement you have.
3. Celebrate Yourself - Don't be shy about celebrating anniversaries, especially milestones. You can ask permission to place 25th anniversary signs in neighborhoods or on past clients' lawns, which can lead to more leads and sales.
4. Super Size It - Billboards can be a great way to create maximum exposure. Depending on your region, billboard rentals can be fairly cheap. Jeb Design/Build in Shreveport, La., paid $7,000 for a one-month campaign that featured 10 static and five digital billboards. Inquire about options: Sometimes billboard companies run specials such as rotating the billboards to different spots over the course of your run, or offering a lower-cost package for locations in less-trafficked areas but where your billboard may stay up for longer if no one else purchases the space.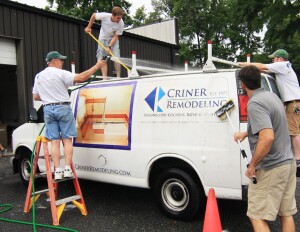 5. Hit the Road - What's better than a billboard for all to see? How about choosing exactly when and where your ad appears? For less than you'd spend on a billboard, you can place ads directly on the sides of vehicles. Criner Remodeling in in York, Va., put ads on vans with the company logo and a three-square-foot project image. The company asked former clients if they could use pictures of their remodels for the ads. Clients who agreed were excited to tell everyone they knew to look out for the ad, giving the company even more exposure. They even wanted to be photographed with the van itself.
QMA Design & Build, in Ventnor, N.J., takes a similar approach with it's job trailers, which act like large job signs when they're on site, and like portable billboards when on the road.
6. Show on the Go - While showrooms can be a useful tool to help clients imagine remodels, they're very costly to provide. One approach is to develop a good homeshow booth that functions like a mobile showroom.
Also, consider a mobile showroom that you can take to the client as Silvertree Remodeling has done. Even with gas money, insurance, and the price of the van, it still costs significantly less than opening a permanent location.
7. Crack the Code - QR codes, or 2D barcodes, are a great tool. Put the QR code on company signs, trucks, print ads, T-shirts etc. Customers with the correct software on their smartphones can scan the codes to be instantly rewarded with whatever digital goodies the creator chooses: for example, digital product literature, installation instructions, a link to a website, a video about a product, or discounts on services.
8. On Air vs. Online - Every company needs at least one form of 'intrusive' marketing, and radio is still very much a viable option. By concentrating on ads that highlight a company's best qualities, these ads can be very effective.
These days, however, the real action is online. It's not whether you have an online presence. You do, and often it's most visible side is reviews by customers on Google, Yelp and other listing services. The real issues are therefore how well do you nurture that online presence. For this, we recommend taking a deep-dive in digital marketing tactics, and there's no better source to learn than Spencer Powell's book, The Remodeler Marketing Blueprint.
9. Star Power - Another form of intrusive advertising is through television. Commercials can lend credibility and turn you into an expert. You can reduce the cost of airtime by advertising certain products and receiving 'sponsorship' from the manufacturers.
10. Stay Relevant - One firm based in the San Francisco Bay area created a character called 'Terry the Turtle,' putting him in a different ad each month. By keeping up with current events and updating ads on a month-to-month basis, the company made Terry more relatable. In one example, Terry was playing basketball with the Golden State Warriors after they won the NBA finals.
11. Partner Up - Introduce a new product or service by partnering with a firm in a non-competing industry. HomeMasons in Manakin-Sabot, Va., paired with Vera's Fine Jewelers to launch a two-week radio advertising blitz called "Love Is On the Air." The ads culminated on Valentine's Day with the on-air naming of the winner of 16 hours of "honey-do" HandyMan Services work, as well as a $1,500 diamond pendant. A handcrafted valentine highlighting the partnership also went to 1,000 people on HomeMasons' mailing list.
12. Old-school. As remodeling remains an in-situ service, job signs are still one of the most ubiquitous of brand marketing devices. But just because it's an old-school device doesn't mean it needs to be boring. Read here for ways to spiff up your jobsite presence.