Direct mail helps maximize leads, and, later, sales. While 81% of Americans read newspapers, 96% have phones, and 98% have TVs, everyone has a mailbox.
Three direct mail venues provide the most return: traditional "duster" cards, product campaign cards, and newsletters. This month, I'll tackle the product campaign card.
Product cards — with photos of baths, kitchens, master suites, or other projects —are more effective when used over a span of time and directed at a large audience. As with any marketing, you must appeal to the correct demographic and remember the basics.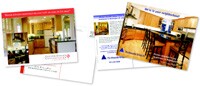 These two product card direct mail samples use dramatic photos and a call to action to entice recipients to consider kitchen remodels.
The look. Outstanding photography, an attractive layout, and convincing copywriting are essential.
The timing. Don't mail during the holidays. Mail in conjunction with newspaper or magazine ads and articles. However, a 12-month plan puts something in a prospect's hand — and mind — every month.
The list. Using past clients, vendors, colleagues, and at least 2,500 others that fit your client profile, come up with as many as 4,000 recipients.
You can also add a little extra by including home maintenance tips or a quick statistic. For example, by correctly citing this magazine's annual Cost vs. Value Report, you can include information that lends near-instant credibility and help prospects justify remodeling investments. If you can tell prospects that kitchen remodels are expected to recoup 135% of investment in the Washington, D.C., area, you're giving them another reason to remodel. — Stephen Wilson is a partner in Biz-comm Inc., a marketing/communications firm specializing in the needs of remodelers, [email protected].