The Big50 is a remodeling business excellence award for best practices. Every May, REMODELING inducts 50 new companies who have set the standard for professionalism and integrity through smart marketing, exemplary business practices, unique design, and extraordinary impact on their community or the industry at large. Over the years, Big50 has become a tightly-knit community of more than 1,000 remodelers. One of the most valuable side benefits of selection to the Big50 is the opportunity to build relationships with other winners. In the end, the name "Big50" is something of a misnomer, since the awards have little to do with a company's size. The companies who belong to this select group set an example for the rest of the industry.
Matt Plaskoff
Plaskoff Construction
Tarzana, Calif.
Big50 1998
Plaskoff Construction, which does more than $9 million annually in high-end remodeling and new construction, has gone both big time and small time since it was named a Big50 company in 1998.
The Southern California company's big-time activities include three projects for ABC's hit TV show Extreme Makeover: Home Edition. The makeovers went so well, president Matt Plaskoff was hired as construction consultant to the show. Another big deal for Plaskoff is a $6 million, 17,000-square-foot home his firm is building in Beverly Hills.
But there is also beauty in smaller-scale projects. Last year Plaskoff launched One Week Bath, which guarantees to gut and remodel a standard bathroom in one week. The venture has been enormously successful, and one recent afternoon Plaskoff said he had 150 active leads. With 10 commission-only salespeople and 7 two-person installation crews, One Week Bath is averaging 6 or 7 baths a week. There is obviously a demand for modest and quick remodeling projects in his market area. "We're getting unbelievable results," Plaskoff says.
Ken Jones
Ken Jones Construction
Fairport, N.Y.
Big50 1990
Life has been good for Ken Jones and his wife Donna, owners of Ken Jones Construction, and it has nothing to do with the company getting bigger and bigger. In fact, the couple says the company has actually scaled down its overhead since it was named Big50 in 1990. "Back then we were operating out of a rented space in an office building that closely matched the size of my ego," Ken admits. Since then, he says, he has gotten his ego under control and has decided that lowered overhead is more important that a glitzy office space. Now he and Donna work out of home offices and "we couldn't be happier," he says.
The size of the business is about the same as it was in 1990, with Donna and Ken running the office and a staff of six in the field. "Work is steady without much marketing," Ken says. "Profits are acceptable and overhead (and ego) are under control."
For others who want a similarly stable and satisfying business, Ken offers this advice: "I continue to encourage other contractors to raise their prices."
Jeff and Teresa Santerre
Prestige Custom Builders
Seattle, Wash.
Big50 1990
Since being named a Big50 company in 1990, this 24-year-old firm has been a model of growth and professionalism. It's hard to say which made the difference: the Big50 designation or the fact that Teresa Santerre, owner Jeff's wife, joined the company in 1989 as an office manager. "I'm a real stickler for detail in the field," Jeff Santerre said at the time. "Teresa brought attention to detail to the office."
Sixteen years later, that attention to detail has paid off. The company's volume, which was $750,000 in 1989, had risen to $2.5 million in 2003, and the staff of 7 in 1989 had grown to 20. "The number one change is the increased professionalism of our company," Jeff says, "and the industry as a whole."
Clients, too, have become more savvy, gaining knowledge from friends, associates, and the Inter-net. The good news, Jeff says, is that customers know enough to hire the best, i.e. his company. "The bad news is," he quips, "our competition has also grown in knowledge and sophistication." To help his company continue its trajectory, Jeff is grateful to REMODELING "for holding the beacon of professionalism for the last 20 years."
Rick Bainbridge
The Bainbridge Crew
Charlotte, N.C.
Big50 1993
Since being named to the Big50 in 1993, Rick Bainbridge's company has gone south. Some 600 miles south, that is, from Buffalo, N.Y., to Charlotte, N.C., where The Bainbridge Crew moved in 1996. Although relocating a regional remodeling business several states away would be unthinkable for many, there is an upside to this move: "You can work 12 months a year" in North Carolina, Bainbridge explains, without the downtime remodelers have to suffer through during Buffalo's brutal winters.
The gamble has paid off. In 1992, the firm did a volume of $2.8 million and had 16 employees. Today, it's more than twice that size, with a volume of $6 million and 35 employees. What has not changed is Bainbridge's legendary commitment to marketing, which he honed as a franchise owner in the 1980s. He spends $200,000 per year on advertising, mostly on TV and radio, and is getting a fair return from his Web site and showroom.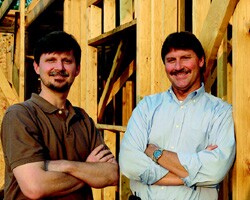 Chuck and Mark Brownlow
Brownlow and Sons
Marietta, Ga.
Big50 1986 and 2003
When Brownlow and Sons was named Big50 in 1986, the company was already 41 years old, having been founded by Roy Brownlow in 1945. In 1986, Roy's sons Mickey and Dean were at the helm of the firm. Today, Dean's sons run the company —Chuck is pre sident, and Mark is vice president.
During the past two decades, communications within the company have drastically improved. In the early 1980s, employees communicated using pagers with eight-second voice messages. Today, each of the company's 30 employees has a cell phone and radio communication with the Nextel system. The company has five digital cameras that are used every day for such tasks as estimating, immediately alerting customers of a changing jobsite condition, and tracking progress.
Chuck Brownlow and a few key employees now enjoy more full-bodied communication capacities with their Nextel Blackberry devices. While attending the Indianapolis 500 this year, Brownlow answered customers' questions. On Memorial Day, he used his Blackberry to handle a customer's water heater problem. This 24/7 communication helps the company stay competitive in a market where big box stores are open all the time.
Mike Carden
M.U.I. Corp.
Birmingham, Ala.
Big50 1993
A lot has changed for Mike Carden since his firm, M.U.I. Corp., was named a Big50 company in 1993. In 2002, his partner, Roddy Sample, became his ex-partner. And in 2003, Car-den suffered multiple fractures to his left leg. After two surgeries over several months, he finally got off his crutches. "I almost lost the business, but have survived," he says, though his 2004 volume was $600,000, down $1 million from the 1992 volume.
In the bigger picture, the industry has also changed. The remodeler notes the impact of big box stores, where clients often go to buy their appliances before calling a contractor, and competition from nonprofessionals such as what Carden calls "some part-time school teacher/coach/firefighter" whose bids might be 25% less than his.
On the upside, computers have made life much easier. In 1993, the company purchased a DOS system, and in 1995 purchased its first Windows-based program, run on a laptop "that weighed a ton." Now, Carden does everything on Microsoft Excel and Word — estimating, lead tracking, accounting, and job costing.
Then again, some things never change. In 1993, Carden wore a ponytail. He then went sans tail until this year. "I have grown that back," Carden says. —Freelancer Kathy Price-Robinson writes about remodeling and green building from the central coast of California.