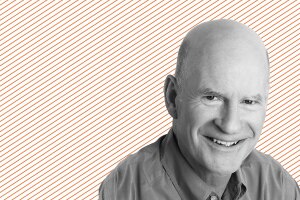 We live in the Rogue Valley in Southern Oregon. Take Exits 12, 14 or 19 off Interstate 5 going north from California and you will find our town, Ashland.
We made the decision to live here after visiting several times in the early 2000's, eventually buying a house in 2003. In 2008 we had it remodeled by a contractor. We love our home. We used to love the weather. That has changed.
As the annual average temperature has gone up many of the evergreens in the surrounding forests have succumbed to boring beetles. The trees are still standing but they are dead. Couple that with drought that now occurs almost every year. Add in a dry lightning storm July 15 that had 1,700 recorded strikes in our region. The result has been a continuous pall of smoke with the air often being unhealthy to breath.
Blame it on what you want but this is the future for us, and a lot of other people on the planet, in one way or another. For example, we won't get flooded out of our home by tidal surges, as we are 80 miles inland and behind a mountain range. But we will have smoke more summers than not.
So far this year over $100 million has been spent fighting fires in the Rouge Region. Likely it will soon top $200 million.
An editorial in the Mail Tribune—the paper published in the big city of Medford, 15 miles north of Ashland—on August 19 lays out a solution:
The Southern Oregon Forest Restoration Collaborative produced a detailed plan a year ago, called the Rouge Basin Cohesive Forest Restoration Strategy. It calls for mechanical thinning of overgrown forests, coupled with prescribed burning in the fall and spring when weather conditions will keep smoke out of communities as much as possible.
The plan proposes thinning and fuels reduction on 25 percent of the Rogue Basin, or 1.1 million acres, over a period of 20 to 30 years. The group estimates that could reduce wildfire risk by as much as 70 percent, while putting 1,700 people to work, directly and indirectly.
The group estimates the work would require up to $30 million in federal appropriations every year for 20 years. That's a lot of money, but this summer's firefighting costs exceeded $135 million two weeks ago, with no end in sight. And that doesn't include the secondary costs in lost tourism revenue and destroyed property.
Thinning costs average $500 to $600 per acre, with prescribed burning adding more cost. But fighting the Garner fire this month cost $4,900 an acre.
Congress needs to realize that it's less expensive in the long run to reduce fire risk by restoring forests than to fight the catastrophic fires that result from overgrown, unhealthy landscapes.
What a novel concept. Invest money to save money and lives.
Our situation is only one example of the need to take a long-term perspective grounded in facts—not alternative ones—to preserve and improve the quality of our lives and our country.
If such measures are not taken I'm afraid our town of Ashland will become Ash Land. What will happen in your town?