After 27 years in business, Robyn and Michael Muscardini (Big50 1991) decided to sell their Oakland, Calif., company, Creative Spaces, to Dan Cohen, an employee who has been with the company since its start. The couple now resides in Sonoma and devotes time to other interests.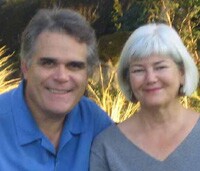 The two, who met in art school, are putting their creativity to a new use. Robyn is working toward a master's degree in art education and volunteers with local museums. She is also a consultant for Creative Spaces, spending one day per week with Cohen and the company's new financial manager. "We're training [the financial manager] in a job that took me 20 years to master," Robyn says. She also participates in planning for the company's future by remaining on its management team.
Meanwhile, Michael is investing in real estate and growing grapes on their Sonoma property. This year, the winery will produce 7,200 bottles.
Cohen is buying Creative Spaces from the Muscardinis on a four-year payment plan. This income provides the couple with financial stability during the transition period.
Michael says that not naming the company after themselves has made for an easier transition, adding, "I finally found a place to put our name — on wine labels."