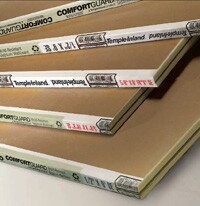 Temple-Inland.
Manufactured with the maker's TemShield mold-protection system, ComfortGuard interior gypsum board features a mold- and water-resistant core and facers, independently tested against ASTM mold-resistance standards. The material is available in 48- and 54-inch widths, and 8-, 10-, and 12-foot lengths. Thicknesses include ½-inch standard or 5/8-inch fire-resistant. ComfortGuard is also ISO-certified to contain at least 95% recycled material on a dry-weight basis, which can help earn recycled material credits in LEED and other green programs.
800.424.2311.
www.templeinland.com.
National Gypsum.
Achieve an STC of 55 with Gold Bond SoundBreak gypsum board. The 5/8-inch-thick material sandwiches a viscoelastic polymer between two sheets of high-density gypsum to reduce sound transfer through walls. Ideal for media rooms, laundry and bathrooms, bedrooms, and other spaces where sound-dampening is valued.
800.628.4662.
www.soundbreak.info.
Lafarge.
Prevent mold growth on interior walls and ceilings with Mold Defense mold-resistant drywall. Available in ½- and 5/8-inch thicknesses, the drywall has a non-combustible mold-, mildew-, and moisture-treated gypsum core, and treated paper facings on the front, back, and long edges. Mold Defense products passed multiple independent ASTM mold-growth tests. The maker expects to eventually replace its current Watercheck and Fire Watercheck products with Mold Defense.
800.237.5505.
www.lafargenorthamerica.com.
Husky.
Frequently used drywall tools are always on-hand with the 5-in-1 Professional's Drywall Tool. The patented design incorporates a keyhole saw, utility knife, drywall rasp, tube punch, and small prybar in a single unit. Made of aircraft-grade aluminum, the tool measures 6 inches long and 1¼ inches wide, and weighs a mere 10 ounces. A nylon pouch and belt hook keep it within easy reach.
Available at The Home Depot.
www.homedepot.com.
USG.
Smooth out wood and concrete floors with Durock multi-use self-leveling underlayment. Eliminating the need for installing metal lath over wood, or shot-blasting concrete, the material can be poured up to 3 inches thick over wood or concrete subfloors. Rapid setting facilitates the return of light trade traffic within a few hours, and the product achieves its compressive strength of 3,500 psi in 7 to 10 days, the maker says. Ideal for use over radiant heat installations, the material also helps maximize sound isolation in floor/ceiling assemblies.
800.874.4968.
www.usg.com. For more product information, visit ebuild, Hanley Wood's interactive product catalog, at remodelingmagazine.com or ebuild.com.
More about ASTM International