The COVID-19 pandemic has drastically changed the way we live in a matter of months. With less time out in the world, we have realized the ways that our homes now need to change, too. Tiny apartments clustered around communal laundry mats and all-inclusive workout rooms must reassess safety in a new age of social distancing. Event spaces once created for public gatherings and parties must reinvent. Open-plan suburban homes with little storage and vast raised ceilings need new ways to separate work, school, and play. As increased isolation has become the new norm, so have frustrations with the one space we rely on most to be safe, comfortable, functional, and efficient: home.
The coronavirus pandemic has undoubtedly changed the face of how we design and build the spaces we live in. Through quarantine, we have started to pay much more attention to our physical realm. People are looking for ways to refresh or reinvent their living spaces, and more of us are beginning to appreciate ways in which we can conserve energy through introspective design and the addition of technology. In 2020, specifically, many trends are surfacing and changing the way we look at design. Among them are:
New uses for old spaces: As people seek more ways to promote productivity in their homes, organization and layout will be a big focus. With more working and learning being done from home, there is a major emphasis on creating spaces that are first and foremost functional – but also aesthetically pleasing.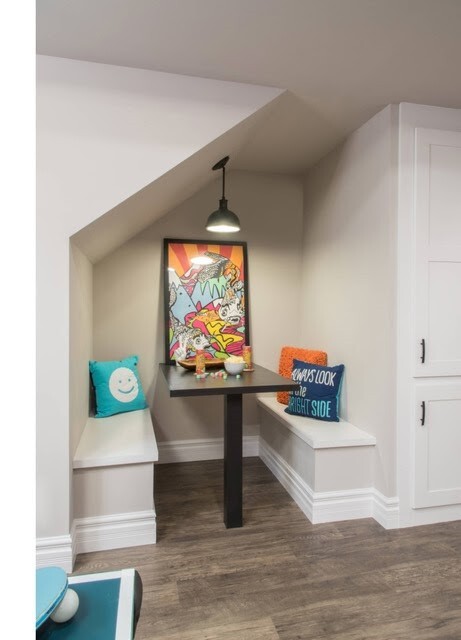 It is more important now than ever to find ways to use those once-underutilized spaces and transform them. Remodeling previously wasted space into an office or meeting room will create a new area where productivity can thrive. A cluttered storage area can be revamped and reorganized into a serene reading room for those moments when someone in the household needs a few minutes alone.
Additions: In many cases, families are staying together longer and in larger groups. College students are remaining at home and participating in remote classes. Parents are choosing to live with their children versus assisted living communities. An addition or extension can help create space for everyone during and after COVID. Building out on to your property, especially if it is larger, is a great option for creating additional space that can meet the needs of your entire family. This process typically involves the initial layout of a new foundation and the build out of new space. Take a moment to decide what type of addition is right for the client, whether it's a new master suite, an extra bathroom, or a large room for family time. Ensuring that the home remains aesthetically pleasing while also creating a smooth traffic flow is important to the success of the addition; making sure everything works beautifully between new and old will be the key to creating an addition that will not only give a family the extra space they need as they're cooped up, but will continue to enhance the functionality of the home even after the pandemic has passed.
Multipurpose Places: The open floorplan has been a trend that has withstood the test of time, whether it's in the original build of a home or done through a remodel. However, the open floorplan is not always functional when it comes to privacy - and without privacy for work or school, productivity suffers. As families continue to work and attend school from the home, the open floorplan must be reimagined.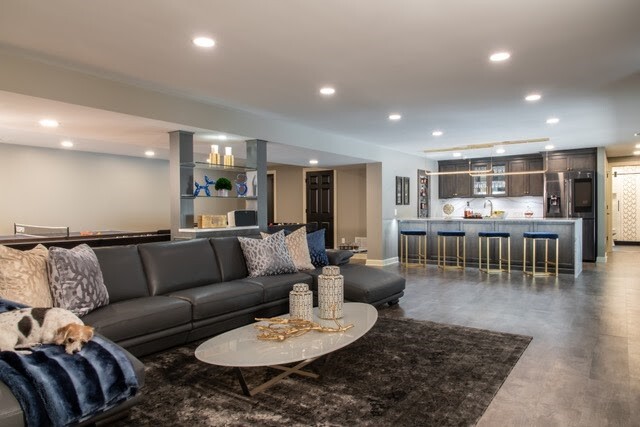 Converting purposefully open spaces, like kitchens or living areas into offices or classrooms extra privacy for better focus. The modern home, both during and post-pandemic, must be multifunctional. By understanding how to redefine these large, open spaces, we will be better prepared to live, learn, work, and play in a single location: our homes.
Communal Kitchen Spaces: No longer just the space where mom cooks dinner, the kitchen of the future needs to be a warm and functional gathering space, too. Quarantine has necessitated a movement towards home-cooking that hasn't been seen in decades. Where just a year ago mom, dad, and kids might have gone their separate ways to enjoy meals out, families are now coming together, cooking together, and dining together – all at home.
Creating a cohesive, multifunctional kitchen is necessary to turn these spaces into communal gathering areas where families can fill up on good company and comfort in addition to good food. Using the same flooring in the kitchen as the surrounding living areas can help to create a seamless transition from room to room that connects the spaces together, while adding in panel-ready appliances and updated cabinetry will maintain flow while creating a space that is both functional and inviting. A large island can serve as a space for cooking, working, and gathering. The key is to create a space that will support multiple needs of multiple family members.
Final Thoughts
As we continue to adapt to the changes the pandemic has brought to our lives, we must embrace and redefine our homes as spaces of both learning and living, productivity and play, form and function. The trends we are seeing today will likely remain for years to come as things like remote work and virtual learning continue even after the pandemic. As we usher in a new era in which homes need to be both luxurious, relaxing retreats and productive, functional workspaces, remodeling within this new normal is an opportunity for us to build the perfect balance – in our homes and in our lives.