Congratulations to Harrell Remodeling, the winner of our first-ever contest for pet remodeling! The REMODELING staff panel received so many creative pet projects that we also named two honorable mentions: Dog Kennel Kitchen Island by Fulford Home Remodeling and Dog House With Integrity Windows by Super Enterprises. Entries were judged on creativity, design, usability, and function.
Check out the honorable mentions and all the submissions below.
Honorable Mentions
Island Kennel: These guys look adorable in their swanky kitchen island kennel.
REMODELING's staff panel loved how the kennel is seamlessly integrated into the kitchen's design. It certainly beats having clunky metal cages in the space. The panel also thought it was neat that the dogs can observe people while inside.
Private Dog House: With this design, the dog can go from inside the house to his dog house, exiting via the dog house to the backyard. REMODELING's staff panel noted how well the dog house integrates into the large house.
Excellent Exits
Pet entries and exits designed to accommodate all sizes, from cats to large dogs.
Built by Kenneth Chrisman, owner of Kenneth Chrisman Construction, this door allows the homeowner's cats to have their own entrance. The small door can also be locked when the owners want time away from their pets.
This cat door by Mosby Building Arts was built into a door to allow the homeowner's cats easy access to the basement.
Mosby Building Arts constructed this dog ramp so that the homeowner's basset hounds can go from the deck to the yard without having to use the steps.
Dog door built by AP Kimball Construction.
The ramp allows these now young dogs to age in place, giving them easy access to an automated doggy door that's triggered by a sensor on their collars. This is part of a larger project by
OnSight Construction to accommodate the owner's large dogs.
Spectacular Showers
These pet showers rival some human showers in both design and function.
Dog shower by Bercher Design & Construction.
Pet-friendly mudroom by S J Janis Company.
Dog shower by Edmond Kitchen & Bath.
Fine Feeding
Custom eating areas where pets can dine in style.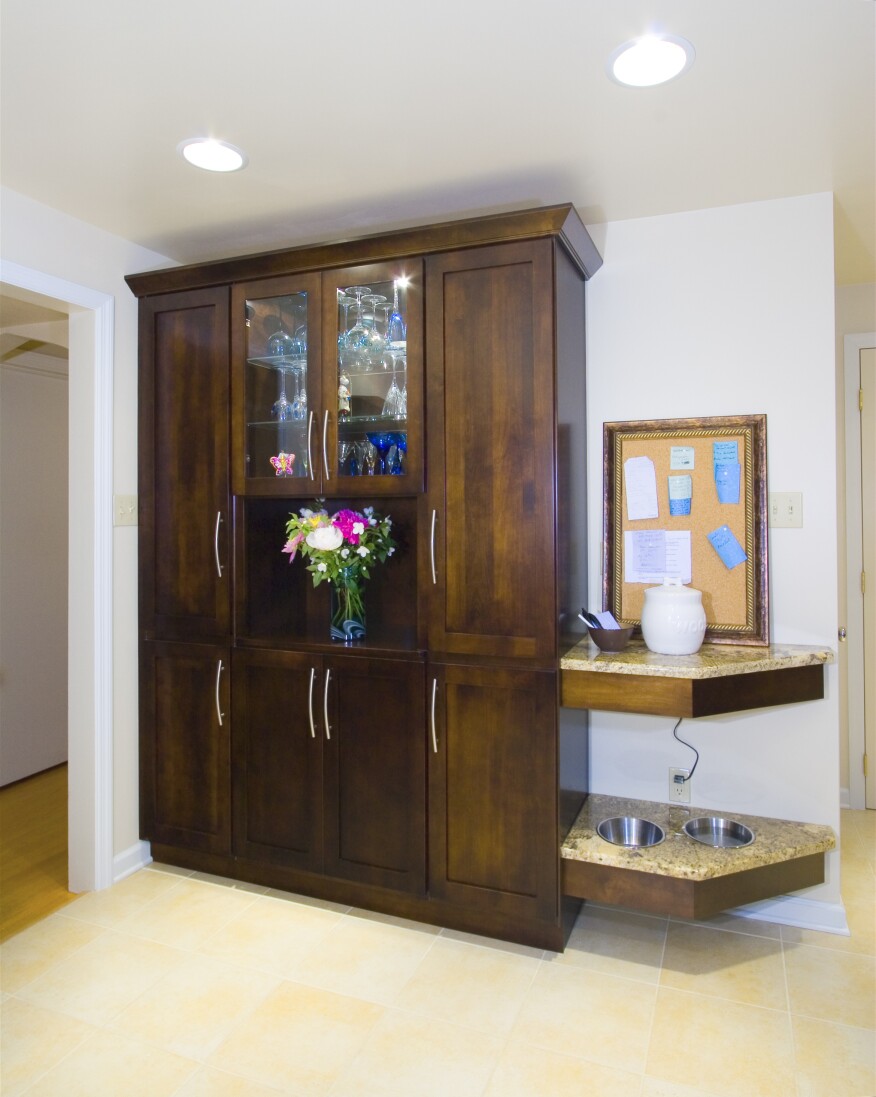 Custom-built dog dishes by Red Oak Remodeling.
Food nook by A Kitchen That Works.
Eating area by Stonehearth Remodeling.
Matching dog eating area by John Heagy Remodeling, Restoration & Construction.
Special Spaces
These remodels created unique areas that are just for pets.

K Squared Builders designed this custom interior kennel to house the homeowner's three rescue dogs. The insulated kennel extends into the garage and provides a more attractive alternative to metal cages sitting in the home.
A private room just for the dog, created by Moore Design Concepts.
The small door leads to a hidden cat room under the homeowner's stairwell. Created by Harrell Remodeling, the room houses a litter box, toys, and beds.
This private bathroom by Mosby Building Arts allows the cat to do his business in peace, while the owner can neatly store a litter box and supplies.
Other Custom Creations
Dog gate by Mosby Building Arts.
Spike's steps, by J&J Builders General Contractors, help the owner's senior dog have easy access to their bed.