Additions
Glass Jewel
In creating this addition to a 1940s colonial, architect David Jameson was faced with the task of improving the home's circulation, restructuring a sequence of existing spaces, and providing an area for cooking and entertaining. He met all those challenges while creating a cohesive design throughout the house.
The jewel in the design is the glass-enclosed breakfast room, which Jameson placed on an angle to respect setback requirements. He says it's designed to feel like an open pavilion juxtaposed against the foundation of a solid structure. For it, he chose muted-color materials that blend well together, including mahogany, sleek painted cabinets, and travertine flooring.
The judges liked the elegantly detailed items set within a larger structure. They said that though the addition breaks with convention, it still complements the existing house.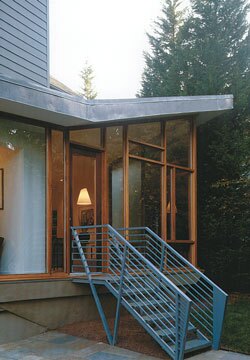 Category: Additions, $100,000 to $250,000
Location: Chevy Chase, Md.
Contractor: LR Mailloux Construction, Washington, D.C.
Designer: David Jameson, David Jameson Architect, Alexandria, Va.