Project Info
View All 10 Photos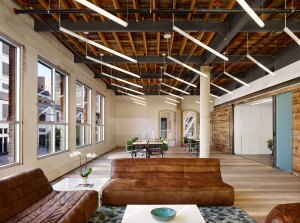 Grand Award: Commercial Remodeling over $500,000
Play slideshow
Architect: Kevin Alter, Ernesto Cragnolino, Tim Whitehill / Alterstudio Architects / One.Eleven.Design, Austin, Texas
Contractor: John Atwater / Franklin Alan, Austin
Priorities
• Create an office that fits a company ethos of creativity • Accommodate plans for the company's growth
Solutions
Peddle, an Internet used-car sales portal based in Austin, recently moved to the 19th century Buttrey Building, which had seen its share of tenants and renovations over the years. Alterstudio Architects renovated the building's top floor to fit Peddle's company culture and create flexible space for future growth.
The designers removed standard partitions and lay-in ceilings and used the rough old structure as a raw frame for the new space. "There were certain things we knew would be fixed like the conference rooms, rest rooms, break room/kitchen," says Alterstudio's Ernesto Cragnolino. They designed the entire space as a large loft subdivided by the fixed rooms. Open work space flows around those rooms.
Varied lighting arrays help define different office areas, and a 16-foot wall also allows for space to be redefined. They created impromptu meeting spaces inside a fretted timber screen or a repurposed concrete elevator shaft. Furnishings can easily change over time.
To create the sense of fun and creativity the clients wanted, Alterstudio Architects worked with One.Eleven.Design to design one room covered in synthetic grass that holds a pool table, another has a series of hammocks. There's a custom light fixture fabricated from hundreds of joist hangers that seems to zip through the administration area, and fluorescent tube lights hang like trapezes over the creative and lounge areas. Benches and walls are delineated with acoustical panels made from compacted porous expanded polypropylene tubes.
Throughout, the designers gave a nod to the original structure in the exposed floor joists, wide planked wood floors, and sections of bare stone wall butting against painted brick and drywall. In all, new materials and old blend together seamlessly.
Judges' Comments
This project was one of the judges' favorites. They loved the "cool conference box," the "thickness of all the elements," the massing and the simple palette. The use of remnants and their juxtaposition to newer elements is "really striking." "I'd like to work here," one judge said.
Products:
Bathroom plumbing fittings: Hansgrohe
Bathroom plumbing fixtures: Toto; Moen
Countertops: Caesarstone
Flooring: Allstate — rubber floor; reclaimed wood flooring
Hardware: Sun Valley Bronze
Kitchen plumbing fittings: Elkay; Hansgrohe
Lighting fixtures: Louis Poulsen, custom joist lighting; Lithonia; Stile, Pavo tube lights
Paints/stains: Benjamin Moore
Siding: Elmwood, reclaimed barn wood
Other: Sound Silencer acoustical panel; Always Greener artificial grass; Molo soft wall workspace dividers
More about Moen
Find products, contact information and articles about
Moen