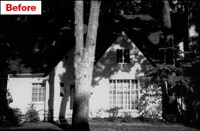 Despite its 5,900 square feet of living space, this 60-year-old English Cape presents a deceptively modest face to its Arlington, Va., street. That was a goal of architect Gregory Wiedemann, who paid great attention "to being sympathetic to the massing, architectural style, and materials of the existing historic house" and those around it. The judges found the home "nicely proportioned" and "altogether satisfying," applauding it for maintaining its "original charm while exploiting the dramatic change of scale that the sloping property affords to the rear."
Although the addition and renovation considerably expanded the home, the overall effect integrates seamlessly with the original and "avoids ostentation," the judges said. For instance, the beamed living room ceiling, bracketed wood columns, and decorative railings were restored, as were the original steel casement windows on the front. Such features inspired much of the new detailing, including the bracketed columns on the three new porches and the half-timbering on the master bedroom addition above.
The judges also noted that the addition "makes great use of changes of volume, rooflines, and occasional repetitions of curved lines. The balance and proportion are especially nice."
Category: Old-house renovation, over $300,000
Location:
Arlington, Va.
Contractor:
Gabe Nassar, GN Contracting, Arlington
Designers:
Gregory Wiedemann, Kathryn Bogue, Wiedemann Architects, Bethesda, Md.
Structural engineer:
Frank Chow, Structron Engineering, Rockville, Md.
Landscape designer:
Katherine Kehoe, Kehoe Landscaping, Silver Spring, Md.
Kitchen designer:
Jennifer Gilmer, Jennifer Gilmer Kitchen & Bath, Chevy Chase, Md.