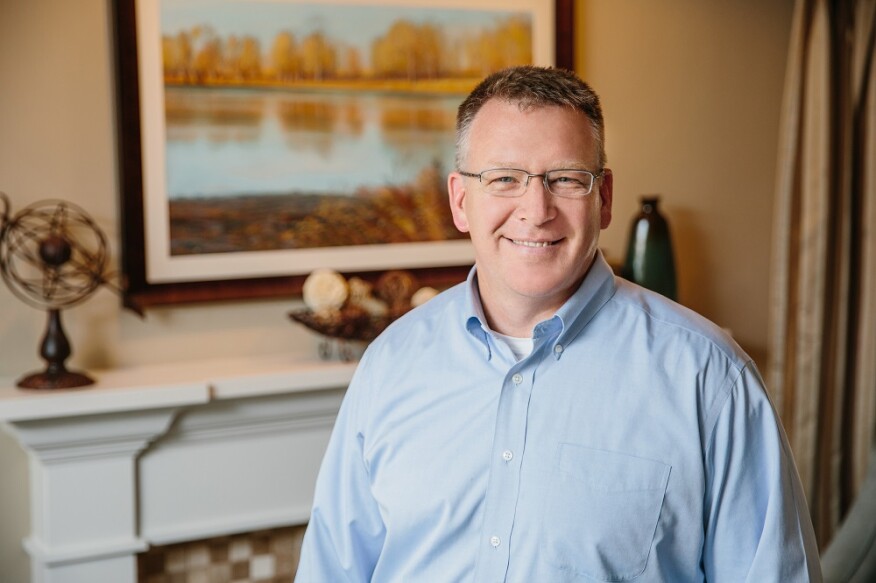 Andy Haste speaks of his clients and his employees as if they were his family—because, to him, they are.
"[At the end of a remodel], I'll go out and do something we call the exit interview," Haste says. "People will say 'I miss such-and- such carpenter so much' or 'I miss [Jeff] because they became like family.' And that's really nice. You're in somebody's house for two or three months or maybe it's only five weeks, but … they become family to us and those relationships are really important."
It's that people-focused approach that has helped Haste build a successful business: Riverside Construction was named to Remodeling's Big50 in 2013, and this year honored as a finalist for the Fred Case Remodeling Entrepreneur of the Year Award.
"I'm very honored to be one of the finalists," Haste says. "I'm humbled by the whole thing. I didn't think we'd be one of the finalists. I filled the application out at the request of Victoria Downing of Remodelers Advantage. And I said, 'Okay, Victoria, I'll do it to honor you.'"
Though his accomplishments are impressive, Haste says he fell into a remodeling career: His father was a contractor and Haste spent summers working at his dad's jobsites. After studying psychology in college and working in that field for a few years, Haste spent 12 years at 84 Lumber as a sales rep. Once he realized he could do what his customers were doing, he left 84 Lumber in 2008 to start his own business.
Haste began Riverside in the beginning of the Great Recession, but he brushes it off as if it was only a mild inconvenience, saying that "there's all kinds of difficulties" when getting a company off the ground. "I immediately got some how-to books on how to be in business because I didn't really know anything about it," he says. He joined Remodelers Advantage in the fall of 2008, and says they "more or less taught me how to be a business."
Learning and Lunch
Riverside Construction is customer-focused. "It all boils down to how we are going to treat our clients on a daily basis," Haste says. But his people-centric approach isn't reserved for current clients; it extends to prospective clients and his workforce.
One crucial way that Haste helps prospective clients is through design seminars. Riverside holds about eight seminars a year that teach prospective clients about kitchen and bath remodels. The company promotes them chiefly through newspaper ads, but also advertises the seminars through social media, the company's website, and its blog. Each 90-minute presentation is given by Haste and his architectural designer, Aaron Johnson. The seminars give Haste and Johnson the opportunity to present and speak with homeowners in a low-pressure environment, Haste explains.
"We introduce people," he says. "We go around the room and ask what brought you, what kind of project are you talking about, what kind of project are you thinking about, and what one question do you want to have answered before you leave today."
After introductions, Haste and Johnson launch into the presentation. They discuss everything from motivations behind a remodel to the different professionals who could perform the remodel. At the end of the seminar, Haste invites attendees to stick around for a catered lunch so they can sit and talk more with Riverside about their projects.
Riverside has been doing the seminars for several years and made them the core of its marketing technique. What made the program truly successful was a suggestion from Joaquin Erazo, former chief marketing officer of Case Design and one of Haste's mentors for the seminars, Haste says.
"[In the beginning,] we would have Danishes and coffee, kind of a breakfast-type thing. Then people would sit down for the seminar. As soon as the seminar was done, they would get up and leave and we didn't have a chance to talk with them."
Erazo suggested switching to lunch after the seminar to encourage attendees to stick around and talk with Haste and his team. The plan worked. "[The seminars help people] get to know and trust us ... We are trying to establish that we are a trustworthy company that's going to do a really nice job on their remodeling project."
Riverside University
Haste extends the consideration he shows to potential clients to his employees as well. Earlier this year, Haste implemented an internal carpenter training program not only to give carpenters a more comprehensive set of skills, but also to lay out a clear path for career advancement.
"We want [our carpenters] to feel like Riverside is the best place to work, so we're creating hope in each of [them]," Haste says. "If you want to earn more money, this is how you do it. You work smarter and more efficiently."
There are four levels to the program: apprentice carpenter, carpenter one, carpenter two, and lead carpenter. Carpenters must master certain hard and soft skills at each level before they move to the next one.
Haste is responsible for implementing the program, while his lead carpenter is responsible for making sure each carpenter completes their jobsite tasks. For training on the hard skills, the carpenters review educational materials such as books or videos, all provided by Riverside, about different tasks before performing them on the jobsite. After executing the task satisfactorily, the lead carpenter will check off that requirement.
Learning the soft skills, however, requires a more personal touch, and Haste is ready to jump in and help his employees. He holds monthly "accountability meetings" with each carpenter to check in on their progress and to see how he can help them. "We have the opportunity to coach them along the way and say, 'We want to see you as more of a team player.' Or we might say, 'We'd like to see you show a little more initiative,'" he says.
The soft skills carpenters must master at each level remain pretty constant and are designed to help reinforce the customer-centric focus on which Haste has built his reputation. "We want to have professionals at every level of our company," Haste says. "In the end, the result is going to be a happy customer."