Remodelers: David Roberts, owner, Roberts Architecture and Construction, Evanston, Ill.; Scott Sevon, partner, MAW Chicago, Palatine, Ill.; Jen Kravitz, office manager, Thorson Restoration and Construction, Bridgewater, Mass.; Andy Wells, principal, Normandy Remodeling, Hinsdale, Ill.
What they like: BuildClean dust control system by Illinois Tool Works
Editors note: When we asked remodelers for their "What I Like" suggestions, four of the 18 replies we received referred to the same product. That many remodelers can't be wrong. Here's what these four have to say about the BuildClean dust control system.
Remodeling is messy, and all of the dust accumulation on a jobsite doesn't just mean extra cleanup—it means frustrated clients. To improve jobsite cleanliness, client happiness, and even crew members' health, many remodelers are turning to BuildClean.
David Roberts says that Illinois Tool Works has "taken what, in the past, had been a crummy fan taped into the window, and turned it into something that not only looks cool, but works well and is of value to the people working with it."
The BuildClean unit features a coarse pre-filter and a fine, secondary HEPA filter—a plus for firms working on RRP projects. Together, the filters clear out as much as 90% of airborne dust. The company recommends replacing the pre-filter on each job, and the HEPA filter annually.
In operation, users can set up a negative-pressure environment in which filtered air is exhausted out of the jobsite, or they can opt for an air-scrubber setup that cleans and recirculates air in the room. On its highest setting, BuildClean can manage six air exchanges per hour in a 6,000-cubic-foot space.
"The 360-degree air scrubber helps keep a cleaner, healthier jobsite, whether big or small," says Scott Sevon, referring to BuildClean's drum-like design, which pulls in air from all sides. "It keeps our clients very happy."
Andy Wells agrees. "Our clients are thrilled by the fact that we use [the product] to reduce the amount of dust that we release in their homes," he says. Because BuildClean removes the majority of dust in the air before it lands, remodelers are getting positive feedback from crews and clients alike.
"We wear safety glasses and ear protection, and this is another tool to meet and exceed those expectations of a clean and safe jobsite," Roberts says. "Health is super important for the guys and the trades that come onto the job. They see that we as a company are taking extra measures for them."
Jen Kravitz says using BuildClean has helped Thorson Restoration earn more work. "Not only does BuildClean help to significantly reduce the amount of dust on the jobsite, but it has also proven to be a valuable sales tool," she says. "What homeowner doesn't want less dust when living through a renovation? We include an informational page outlining the benefits of the system in each of our contract presentation packets." To accommodate clients' growing interest, Thorson Restoration recently added another BuildClean unit to its arsenal, Kravitz says.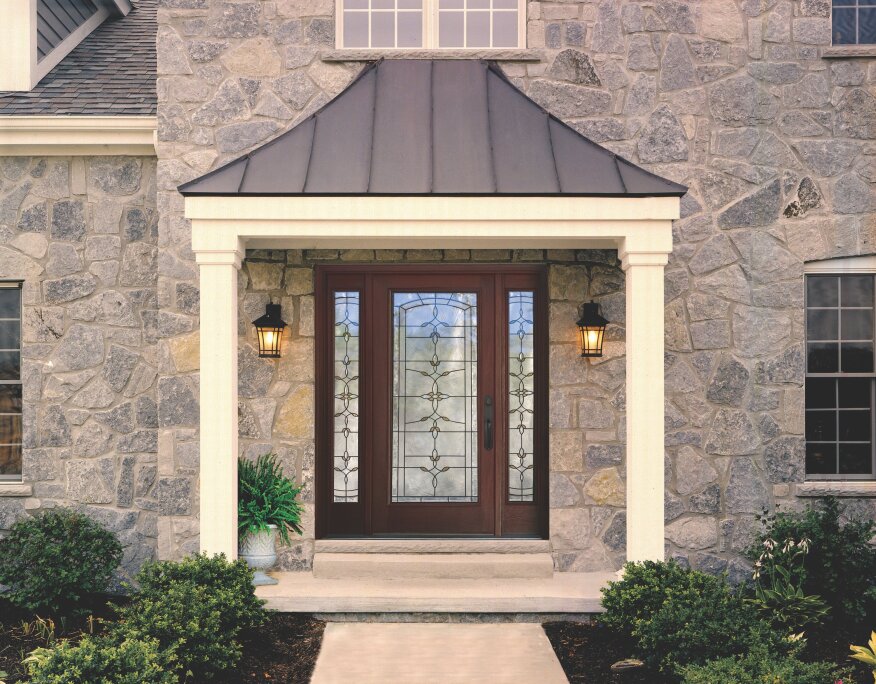 Remodeler: Bill Sheetz, owner, Lake Cook Exteriors, Palatine, Ill.
What I like: Therma-Tru fiberglass entry doors
Bill Sheetz, whose company works on mostly exterior projects had some bad luck a few years ago with a previous manufacturer. That's when he decided to go with Therma-Tru, a large national brand. "Replacing a door makes such a dramatic difference on the front of a house," Sheetz says. "They're impressive once they're done and add value to people's homes."
He only sells fiberglass doors and likes Therma-Tru because of its "vast selection and different price ranges— from a reasonable inexpensive door for the back of a garage, to a grand entry system that might cost $10,000." They also have numerous glass choices, he says, "decorative, clear, etched, and translucent." But Sheetz is not only loyal to the product, he also likes the company itself. The business owner has visited their plants and participated in training.
The doors are made to look like wood, "but they offer insulation that can be four to five times what a wood door would be. They're actually foam-filled fiberglass doors that are high-performance when it comes to energy."
Remodeler: Anthony Caracci, project manager, Degnan Design Builders, DeForest, Wis.
What I like: PLS 5 by Pacific Laser Systems
"If I couldn't have any of the other specialty tools in my truck beyond my tool belt, tape measure, pencils, and speed square, I'd have a PLS," says product junkie and project manager Anthony Caracci.
The stationary measuring tool sits on a stand and projects five lasers simultaneously. From the system itself, one laser points out 90 degrees to the right, one 90 degrees to the left, one straight up in the air, one down, and one straight out in front—all in plumb alignment. "It's our gold standard for wall framing," Caracci says. "We set the laser beam on the bottom plate, and as long as it's touching the edge of the top plate above, [the wall] is perfectly plumb. If it's not, this tool will tell you that."
Caracci says that the PLS is sturdy, and he's had "only two in last 14 years." He explains that, "When one started showing a little out of square after 12 years, I called PLS. They didn't do warranty repairs on a laser that old, but they offered me a reduced price on a new one. They're a good company to deal with."
Remodeler: Dan Wolt, president and founder, Zen Windows, Columbus, Ohio
What I like: Soft-Lite windows
For most of his 25 years in business, Dan Wolt sold a variety of window brands. "When I decided to take my company national a couple of years ago, I wanted to sell one brand of window and private label it through Zen," he says.
Wolt chose Soft Lite because it fit five criteria Zen Windows required: The company had to have been in business for 50 years, be debt free, carry an excellent product, have national distribution, and offer a single point of contact for communication.
Communication is key since Zen, now with 28 locations, does business in real time. "Orders are placed every day and deliveries happen every day," Wolt says. "I needed all of my offices to have a central location that they could call to deal with challenges and answer questions."
Wolt says that Soft Lite's quick turnaround is usually just one week, two in some markets, and gives Zen a competitive advantage. "I also like that the company doesn't have a corporate feel," he says. "I have literally broken bread with the owner. It's a family feel and Zen windows has the same feel. We really relate to that."
Remodeler: Michael Sauri, president, Tri-Vista USA, Arlington, Va.
What I like: Houzz
Before the Internet, Michael Sauri's clients brought him project ideas from books, magazines, or "even worse, we'd have them describe the things they wanted," he says. "The problem with that is they have no vocabulary in architecture or design."
Then came Houzz. "It gives our clients access to thousands of images. And the best part is, they're searchable." More important, users can see designs from all over the world. Space can be a premium in Sauri's market, so he suggests that clients look at homes in Paris, Montreal, and Beijing. "You can get ideas that you wouldn't see in America."
Sauri has clients sign up for a free Houzz account and put 10 images into an Ideabook. They're instructed to look at specific rooms and to include at least two images of rooms they dislike. "We ask them to write a description of what they don't like in that image. And we always make sure to tell them to mark their comments as private," Sauri says. He shares the Ideabook with other design professionals, such as lighting or kitchen designers. "This way, they know what the client is drawn to."
Remodeler: Pat Jackson, co-owner, Classic Restoration, Stamford, Conn.
What I like: Vermont slate for roofs
While Classic Restoration will use a variety of products on its roof projects, Pat Jackson says that about 60% of his company's business is in slate, most of which he purchases from the Greenstone Slate Company in Poultney, Vt.
"Slate is probably the best material you can put on your roof," Jackson says. "It's impermeable to the elements, hail-impact resistant, and impermeable to freeze and thaw cycles. It's also fire resistant and you can easily get 100 years out of it using grade S1—the strongest rock. We only do S1 slate roofs."
In Jackson's upscale market, clients are looking for products that are unique. With slate, "You never get the same roof year after year," he says. "Slate's color will weather depending on sun and heat, rain and snow, wind and dust. Every particle will change its color. It might be grey-green when it's installed and the next year it may have a bunch of browns, chocolates, and honey colors." The stone can also be graduated in thickness and you can also create different patterns.
Although it's heavy, he says, it's an easy material to install.
Remodeler: Todd Allen Miller, president, QMA Design + Build, Ventnor, N.J.
What I like: Wood-look tile flooring
Architect Todd Miller loves the idea of using hardwood floors, but they "become a maintenance issue," in his Jersey Shore market. Instead, he's been specifying tile floors that look like hardwood.
"These new wood tiles are amazing," says Miller, who doesn't favor a particular brand. Several flooring and tile companies (including Daltile, pictured) offer wood-look tiles in numerous finishes.
Made of porcelain or clay, the tiles can be rough or smooth. "Some of these are random grain patterns with no repeat so it looks so natural," Miller says. "They use the latest high-tech engineering to provide the look of Old World materials."
The pieces are installed like regular tile, and Miller chooses a matching grout that effectively disappears between the tiles to complete the illusion of a real wood floor.
Miller says that the tiles come in a variety of styles to replicate weathered oak, reclaimed wood, or traditional planks. "They're fairly inexpensive and really warm up the house without the maintenance and issues that water would present using wood floors in kitchens."
Remodeler: Jeremy Anseth, president, Lanai Construction, Woodland Hills, Calif.
What I like: Resysta wood alternative
To differentiate himself in his high-end Los Angles market, Jeremy Anseth decided to use Resysta on a garage door. It was a success. The wood alternative product can be used in any application where wood might be used, from furniture and decking to building facades and marine applications.
A fiber-reinforced hybrid material made from rice husks, common salt, mineral oil, and a "Swiss-manufactured binding agent," Resysta is design to be environmentally friendly, low-maintenance, and weather-resistant against sun, rain, snow, and salt water.
"There are about 20 different profiles you can get—decking, siding, rain screen, flooring, and tile," Anseth says. He likes that Resysta sands and stains like wood, but absorbs no moisture. "Insects don't like eating sand, so they stay away," he says. "Once it's stained and sealed, it can be exposed to weather for about 15 to 20 years without too much shade variation." Resysta has a natural tan color, and Anseth takes advantage of dozens of factory stain options.
He cautions that "it's a preferred installer kind of product. You can screw it up easily."
Remodeler: Don Kennedy, president, ProMaster Home Repair and Handyman, Milford, Ohio
What I like: Milwaukee Heated Jackets
In this business, remodeler and former Air Force pilot Don Kennedy says "looking good is half the battle." To keep his crews well outfitted to represent the company, last fall he invested in Milwaukee Heated Jackets. "They run on the same batteries and chargers as many of the power tools we use, so you can swap batteries with your tools on the jobsite," he says. The jacket also has a plug that can charge the wearer's cellphone battery.
"You may say the real value is that it keeps us warm, and that is true, but it is also a huge conversation starter," Kennedy says of the jackets, which showcase the company logo near the battery lights on the breast pocket.
"When you walk into a store or initiate a conversation, people notice the lights when the jacket is turned on," he says. "They'll ask, 'why is your jacket lit up?' Given that our company logo is right below those lights, it naturally starts a conversation about what we do."
In other words, Kennedy says that the jackets are a "killer marketing piece."
Remodeler: Laura Watson, design department manager, The Cleary Company, Columbus, Ohio
What I like: Grohe Retrofit 190
"Grohe is one of the best companies out there," says designer Laura Watson. "They're like the BMW of the plumbing fixture world. The engineering in their products is above and beyond, and they do a lot of water conservation."
Watson's favorite Grohe shower fixture is the Retrofit 190, a combination showerhead and handheld shower product. "The showerhead actually acts like a rain can. It angles out and hangs over your head instead of spraying directly at you."
The Retrofit 190 can be used with existing plumbing so there's less labor involved, Watson points out. A client can change out a showerhead— choosing from a variety of options—without removing or changing tile. There's no need to re-route plumbing for a ceiling-installed rain can, and the diverter is already part of the unit. "That diverter has six different settings," Watson says, including three eco-friendly settings. "If you don't want to use as much water, you can use those settings. The system pumps more air into the water so it still feels like you have the full water pressure."
Remodelers: Peggy and Dave Mackowski, owners, Quality Design and Construction, Raleigh, N.C.
What they like: Eze Breeze windows, PGT Industries
Prior to discovering Eze Breeze, Dave and Peggy Mackowski say that there really was no good alternative for a screened-in porch. "These windows actually keep out the pollen," Dave says. Peggy adds, referring to their region's spring scourge, "It's really a screen-porch enclosure and keeps out all the elements— rain and snow as well."
The lightweight vinyl-glazed window panels and screens are held in place by an aluminum frame. "The screen is permanently attached to the opening," Dave says. "You can slide the window up and down or take it totally out for cleaning, and the screen remains in place." The panels can be up to 5-feet wide in a single unit. "You'd spend a lot of money if you had that whole system made out of glass. Plus, the weight would limit the size of the opening."
For a standard porch retrofit, Eze Breeze panels mount on the exterior posts for the screened-in porch. The job isn't difficult, "but you just have to make sure the measurements are done accurately," Dave advises.
Remodeler: Dave Richard, lead carpenter, Out of the Woods Construction, Arlington, Mass.
What I like: Fein MultiMaster
"Before we discovered this tool, we were relegated to using a circular or reciprocating saw; neither of which has the control that the MultiMaster does," says Dave Richard of Fein's multi-tool offering. "It's the type of tool that actually changes the way you plan to do a job. You think, 'I can do it with the Fein tool,' and that changes your procedure since you know you have that at your disposal."
The Multimaster is an oscillating power tool that can do many types of jobs using attachments, such as saw blades, a cleaning set for tile and grout, sanding accessories, and more. It uses electric power or can be battery-operated.
"If you need a saw in a tight area to make a plunge cut, or if you're installing flooring and you need to undercut a casing or a baseboard, it makes it easy to do that," Richard says. "We use it for a variety of unique cuts that we didn't have a tool for until this one came along."
Remodeler: David Hamtil, co-owner, Hamtil Construction, St. Louis.
What I like: Legrand Adorne pop-out outlet
Design/build firm Hamtil Construction pays special attention to details, but one has always dogged it. "For years, we've had the problem of what to do about unsightly outlets on nice cabinets or kitchens islands," says Dave Hamtil. He began using Legrand Adorne products and particularly likes the pop-out outlet that hides away when not in use.
The outlet receptacle looks like a flat, square plate. Users simply push on the center and the outlet pops out. But, Hamtil cautions, "installation can be tricky. It definitely requires more planning. The body of the device protrudes into the electrical box pretty far. You have to have the deepest available box so you have enough room. And it's definitely a slower installation. It's best if your clients know from the get-go that they want to use the Adorne, especially on a retrofit project."
Adorne offers a series of innovative outlets, switches, and wall plates that match other finishes, like burnished steel and bronze. Hamtil recently used Adorne products to replace outlets in a modern home, saying "Adorne carried the same tone as the other architectural features in the house."
Remodeler: Jim Hicks, owner, Jim Hicks Home Improvement, Yorktown, Va.
What I like: Velux skylights
A former roofing contractor, Jim Hicks originally specified Velux when the company developed a curb-mounted skylight that offered an easier retrofit option when ineffective curb-mounted units failed. Now, he's excited about a relatively recent Velux product: a solar-powered, venting, curb-mounted skylight.
"The solar brings down the cost of the skylight because there's less labor involved to install it," he says. An exterior solar cell powers the skylight "without having to bring in an electrician to rewire, and possibly drywallers and painters that add extra costs." Hicks also likes what he calls "the bells and whistles" that go along with the skylight, such as remote-controlled blinds.
While Velux has upgraded to low-E glass, which reflects the sun and heat, Hicks says that doesn't work as well on the skylights as it does on windows. "On the roof, the angle's not the same as a vertical pane of glass. You'll still get heat gain in that house, and in the summer, that can be bad. I always recommend [that clients] get the blinds." These are installed with the skylight at the factory.
Remodeler: Matt Plaskoff, founder and owner of One Week Bath, Van Nuys, Calif.
What I like: Fleurco shower doors
Matt Plaskoff knows his bathroom products. As founder and owner of One Week Bath since 2004, he has seen his company remodel more than 2,000 custom bathrooms. "When you have a situation where you can't do a swing door but you want heavy glass and something modern looking, Fleurco shower doors are really a great solution," says Plaskoff, who is partial to the company's top-of-the-line door, Kinetik.
At the top of the frameless glass doors are rollers that slide along a tube, almost like a barn door. The doors can be used for walk-in showers or a tub-shower combination. "Any place you'd use a traditional sliding door," Plaskoff says, "but this is a cleaner system. A traditional shower door has a lot of metal on the bottom, on the side, and on the tub. The Fleurco has a lot less metal, it's less grimy to care for, easy to clean, and modern looking."
The door is relatively easy to install, says Plaskoff whose company is now placing them in 150 bathrooms in an upscale hotel in Beverly Hills.