Faucets of the Future
Manufacturers have applied smart technology to phones, homes, cars, and now the sink. Technology has begun to creep its way into faucet designs in the form of motion sensors and LED lights; each company uses the technology in unique ways to create many options for homeowners to choose from. Not even the Jetsons had faucets this cool!
Lovely Lights
KWC's Zoe Light Touch Pro brings a clever yet practical feature to the kitchen. The faucet's round touchpad turns the water on or off and also indicates the water's temperature thanks to an LED light around the rim of the pad. Another light in the spout, featuring KWC's Luminaqua LED, allows users to light up the sink when doing the chores. kwcamerica.com
Flexible Tech
The design of Brizo's new Artesso faucet allows the spray wand and hose to move in any direction, making it easier to fill pots outside of the sink. The faucet also features optional Smart Touch technology, so you can make this modern faucet as forward-thinking as you like. brizo.com
On or Off
The Beale Selectronic faucet from American Standard employs motion sense technology to turn the water on or off. But if users want to disable the feature, a door slides over the sensor so the faucet functions normally. There's also an LED indicator light that highlights which mode is active. americanstandard-us.com
Rosy Outlook
Grohe has introduced a new rose gold finish for its Grandera collection. The brand's designers felt that the modern designs were taking a masculine turn and saw women choosing a traditional or contemporary faucets instead. The delicate rose gold finish helps meet that desire and bridge the gap between modern and feminine. The finish is available across a range of bath fixtures, so the showers, tubs, and lavatories on your next projects can all come up roses. grohe.com/us

Modern Twists
Faucets have come a long way from the standard two spout configuration. Now, there are hundreds of designs to choose from to get the right look for your space. Sleek, angular designs and traditional styles in funky finishes are just a few ways faucets have entered 21st-century design. The end result is a gorgeous kitchen or bath for your clients to enjoy every day.
Paint it Black
Danze released its unique satin black finish a few years ago, but has just added it as an option for its Mid-Town bath collection and its Mid-town and Parma kitchen faucets. This matte finish is a standout and the perfect way to make modern designs edgy or give traditional designs a twist. danze.com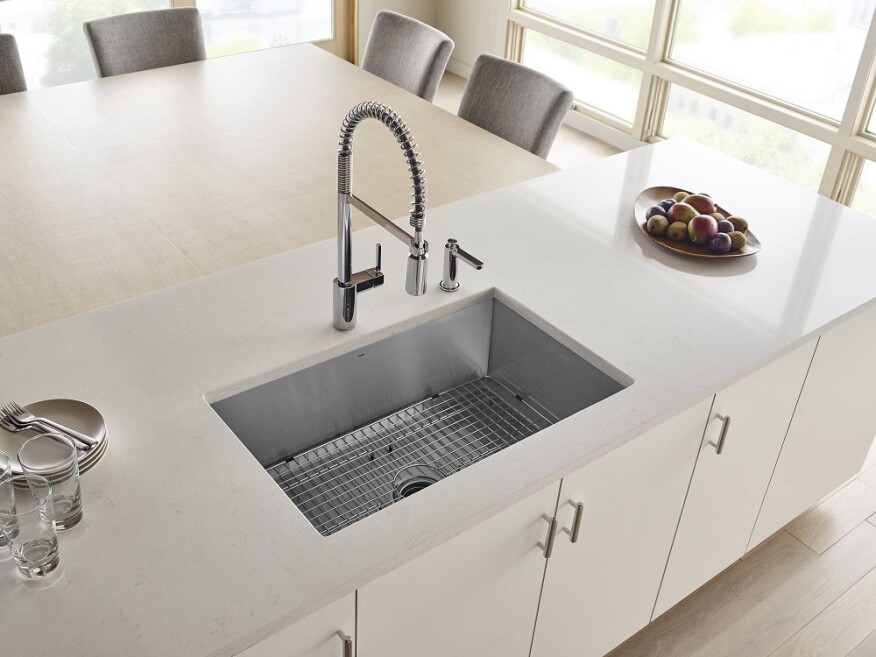 Industrial Inspiration
Moen's new Align faucet features a spring-wrapped hose to give it the look and feel of the industrial pre-rinse faucet, but with the flexibility homeowners desire. It also features the maker's Spot Resist finish and a Power Clean Spray so homeowners can get dishes cleaner faster and with less water. moen.com
3D For the Home
DXV is using modern technology to create faucets that are as gorgeous as they are functional. 3D printing technology allowed designers to create the Trope, Vibrato (shown), and Shadowbrook models using layers of stainless steel that twist and wind in ways cast materials can't. Save these for your luxury projects: The faucets are available at select showrooms and pricing begins at $17,000 each. dxv.com