Vinyl deck railings have long been a staple in the alternative decking category, and according to industry experts, there is a definite demand for them from homeowners. Many homeowners, especially those in the Midwest, New England, and the Southeast, simply prefer the clean, crisp appearance of a white railing with their decks — no matter what the decking material is.
Even though vinyl railings currently hold a larger share of the railing market than composite railings, composites are starting to grow in popularity. Composites offer several properties that hollow vinyl railings do not — components have a more solid feel, sport low-gloss finishes, and provide the appearance of natural wood. Also, composite railings have improved in terms of architectural style since their introduction. Many homeowners with composite decks are choosing railings that match their decks' texture and color. Several composite manufacturers now offer matching railing systems with decoratively milled handrails, post caps, balusters, and accessories.
"They're a lot more elaborate than they were even two years ago, when everyone was offering just a straight dimensional lumber profile," says John Long, VP of sales and marketing for Kadant Composites.
But composite manufacturers have not ignored the popularity of the white-painted railing look. Recognizing the opportunity in this market, a handful of manufacturers have introduced solid composite railings that are coextruded with a white PVC capstock, either as their main railing offering or as an alternative to their all-composite railings.
According to LP WeatherBest's Steve Weinstein, brand manager for outdoor living products, white PVC–capped composite railing is the fastest growing segment of the market. "It appears to be growing by about 20% to 25% a year," Weinstein says.
Manufacturers of the PVC-capped composite railings say that their railing systems offer not only a crisp white-painted appearance but a sturdier, more solid-feeling railing, too. "The coextruded composites have much more to offer from both structural and durability standpoints," Long says.
Industry experts predict that both the vinyl and composite railing categories will continue to expand, each feeding off the success of the other.
"Right now wood still has the majority of the market," points out Paul Bizzari, director of marketing for TimberTech. But, he predicts, "vinyl and composites are going to coexist. They'll both grow and they'll squeeze out wood railings."
Weyerhaeuser. ChoiceDek composite decking is now available in five colors: Classic Cedar, Classic Oak, Classic Sierra Tan, Classic Sandstone, and Plus Oak. Made from recycled plastic and natural oak fibers, the decking is moisture resistant and requires no sealing, staining, or painting, although it can be painted. (800) 951-5117. www.choicedek.com.
Trex. Trex Accents composite decking has a new wood-grain texture that provides the appearance of natural wood without splintering or deteriorating. Made from reclaimed hardwood sawdust and reclaimed/recycled polyethylene plastic, the decking is available in three colors. (800) 289-8739. www.trex.com.
Nexwood. Nexwood composite decking is now available in a 5/4 -inch-thick Radius Edge Board designed to span up to 24 inches on-center. Suitable for decks, docks, fences, and stairs, the decking comes in Driftwood Gray, Premium Sierra Brown, and Premium Sequoia Red. (888) 763-9966. www.nexwood.com.
TimberTech. Made from a patented blend of plastic resins and wood flour, the Whitesand Ornamental Railing System provides a soft white deck railing in a pure composite material without a capstock. The railing and baluster kits come in 6- and 8-foot lengths and feature the maker's bread-loaf-shaped top rail. A variety of post caps and accessories are also available. (800) 307-7780. www.timbertech.com.
CPI Plastics. Now available in a 5/4-inch board, the eon Decking System is resistant to the effects of heat, sunlight, mold, mildew, insects, and moisture and will not split, crack, stain, or warp, the maker says. Constructed of a thermoplastic material, the decking features a redesigned T-clip fastener system that reduces gapping. The decking is available in six colors and four railing styles. (866) 342-5366. www.eonoutdoor.com.
DecKorators. Offering an alternative to wood or composite railing balusters, the aluminum Colonial Series balusters feature a turned spindle design reminiscent of architecture of the mid-1700s. Designed to replicate the appearance of both traditional wrought iron and wood, the line comes in bronze, black, or white finishes and installs using the maker's Baluster Connector system. (800) 332-5724. www.deckorators.com.
Universal Forest Products. Three deck railing styles have been introduced to complement the maker's EverX composite decking line. The new styles include the Chicago style, the contemporary style, and the ornate system. The railings have an exterior layer of PVC available in white and gray. (608) 326-0900. www.ufpi.com.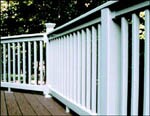 Kroy Building Products. Constructed of 100% recycled wood fibers extruded with a polymer capstock coating, Timberlast Fair Bluff Designer Series composite railings never need painting. Available in white and khaki, the railings can be installed post-to-post or over-the-post. (800) 933-5769. www.kroybp.com.
CertainTeed. Designed to replace the current 2-inch-diameter handrail, the 1 1 / 2 -inch-diameter EverNew handrail component system now meets ADA requirements for grippable handrails. The steel-reinforced system is adaptable to wall and post mounting and accommodates any angle from 0 to 90. (800) 233-8990. www.certainteed.com.
Kadant Composites. Geo-Deck Plus White Railings are comprised of a wood composite core capped with a coextruded PVC coating in white. A variety of post cap designs are available. The railings, available in 6- and 8-foot-long kits, are warranted against warping, cracking, and insect damage. (877) 804-0137. www.geodeck.com.
For more product information, visit ebuild.com, Hanley Wood's interactive product catalog.