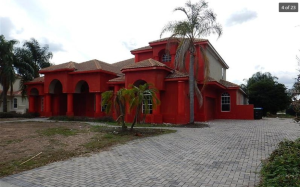 Bloomberg staffers Matt Scully and Tracy Alloway zero in on one of the 11 million homes sold with shoddy mortgages during the housing insanity that brought down the market in 2008.
They look in particular at an Orlando, Fla., residential property that sold recently for $433,000, an 84% loss in value from its original selling price of $2.7 million in the Lake Cypress Cove suburb of Orlando. Scully and Alloway write:
Around 631,000 properties nationwide are still in active foreclosure, according to data from Black Knight Financial Services.
That's down significantly from the height of the housing crisis, when more than 5 million borrowers received notices and another 6 million-plus had their loans modified to better their chance of being able to repay.
Read more >