Canada's older homeowners are a driving force in the market and are looking to hire general contractors and design professionals to do the job for them, according to a new survey released by Houzz today. Over half of homeowners aged 45+ listed finally having time and money as top reasons for renovating in 2014. This strikes a contrast from younger homeowners, who found staying on budget and funding projects to be their top concerns.
The online survey of more than 27,000 from Canadians registered as users of the Houzz website showed that over half of older homeowners are choosing to renovate their homes.
The survey, conducted from February to April, found that across the board, Canadian homeowners' top priority is to enhance the design and functionality of their homes. However, numbers showed that older generations are investing much more in renovation and making more big-ticket purchases than their younger counterparts, with millennials more likely to decorate or make minor repairs in their homes.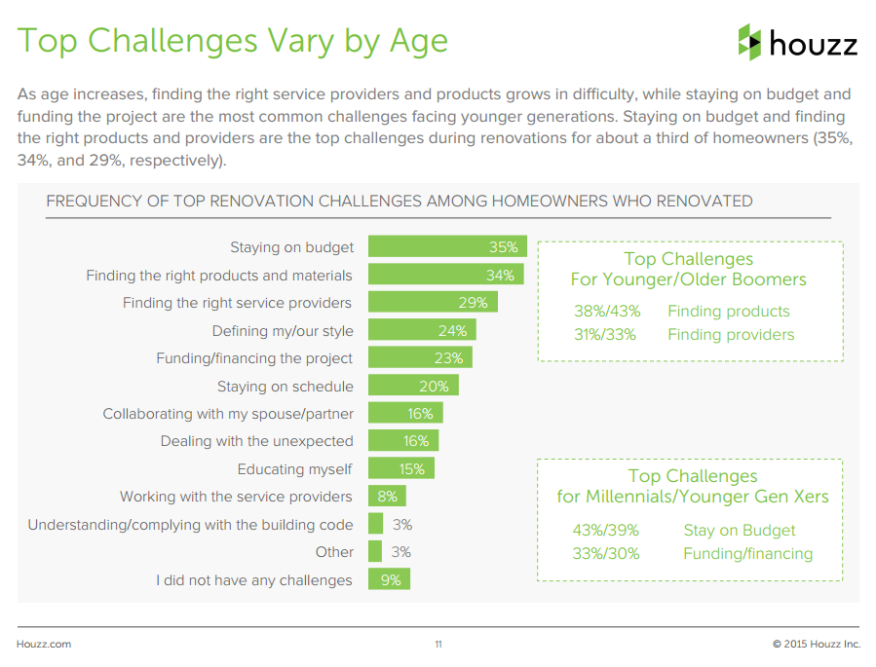 Among the older Generation X-ers (45-54), 59% of homeowners renovated their homes, while 68% of homeowners aged 55-64 and 66% of homeowners aged 65+ made major renovations.
Additionally, the survey revealed that 80% of homeowners renovated their homes with professional help in 2015, with roughly 43% of those renovations involving a general contractor. Houzz also found that older homeowners are relying more on professional advice and service providers than on family and friends when making renovating designs. Only 23% of homeowners between the ages of 25-34 cited moderate or significant influence from professionals, while that number rose to 33% among homeowners aged 45-54 and was the highest among the 65+ crowd at 38%.
Additionally, the survey results reflected that as age increases, the difficulty of finding the right service providers and products increases as well: 43% of the 55+ age group cited being challenged to find products and 33% had difficulty finding providers.