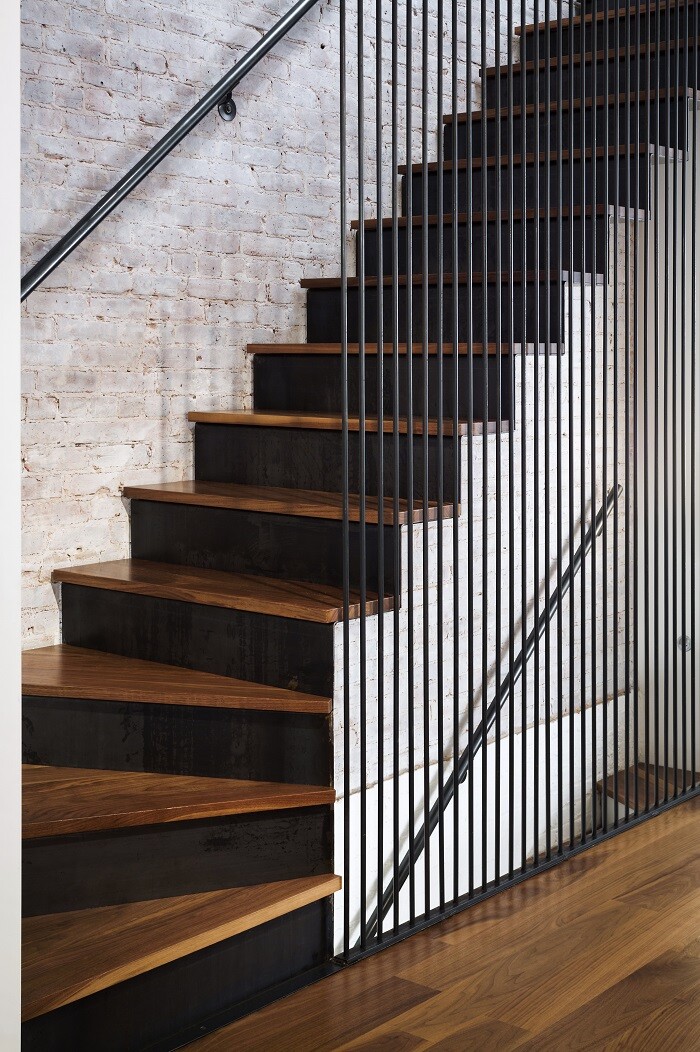 This tri-level townhouse was originally three separate apartments that Leone Design Studio transformed into a single-family residence. "We basically took everything out, with the exception of the four brick walls and the roof. We left much of the floor framing and structurally reinforced instead of removing all the joists," Roy Leone says. This left few surprises for the team and allowed them to address their chief concerns, like making sure the townhouse got plenty of natural light.
"We always want to get as much natural light into the house as possible," says Leone. "To do that in the middle of the house, we created a shaft of light that comes down in the middle third of the building along the west wall."
For the stairs themselves, "we came up with some initial ideas for a bent steel stair that was very delicate and visually pretty simple," Leone says. But creating that stair turned out to cost more than what the homeowners were willing to spend, so Leone worked with the fabricator to design a budget-friendly alternative. One of the ways they cut the cost was by making the plate steel stringer in two pieces instead of one; this not only saved money, but made the stringers easier and faster for the team to install.
In addition, the team decided to keep the stairs in a similar location to where they were before the renovation. "Pretty well through the design process, we actually had the stair on the opposite side of the house," Leone says. But the stairs blocked more light in that location, so the team decided to switch them back to their original position. "It was all part of the process: What if we do this? What if we do that? How does this feel? That's how they ended up where they are."