View All 7 Photos >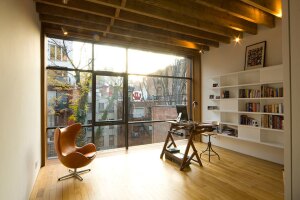 Help your clients get into the swing of the new school year with these gorgeous remodels.
Play slideshow
August brings hot temperatures, quick summer getaways, and lazy days by the pool. It also brings doctor's appointments, class schedules, and trips to the office supply store as parents and their children prepare for the new school year. Whether students are already nestled back behind their desks or still jumping into the pool for last-minute summer fun, each one will be guaranteed to be given homework at some point during the school year. This means not only will students need a place to complete their algebra equations and write an essay about Napoleon, but they will also need a place to store their backpacks, lunchbags, and school supplies.
We've found seven of our favorite offices and mudrooms to help students study hard and stay organized. After you've looked through the slideshow, let us know in the comments below what remodels you've completed in the past to help families get ready for the school year.