When I decided to create the photography book FLUSH: Celebrating Bathrooms Past & Present, I embarked on what I call my "bathroom odyssey." I have explored—and photographed—unusual bathrooms over a wide geographical area. From grungy to gilded, minute to massive, outhouses to airplanes, each bathroom I included in my book was distinctive for one reason or another. Here are six favorites.
1. I found this outhouse in Bodie, high in California's Sierra Nevada Mountains. A raucous mining town in its heyday in the 1890s, Bodie boasted one killing a day. It is now a richly atmospheric ghost town. Fourteen years after taking this shot, I found myself back in Bodie. Returning to the exact spot where I took this photo, I was amazed to find the outhouse still standing, thoughtfully propped up by two 2 x 6 boards, leaning at the exact same angle you see here.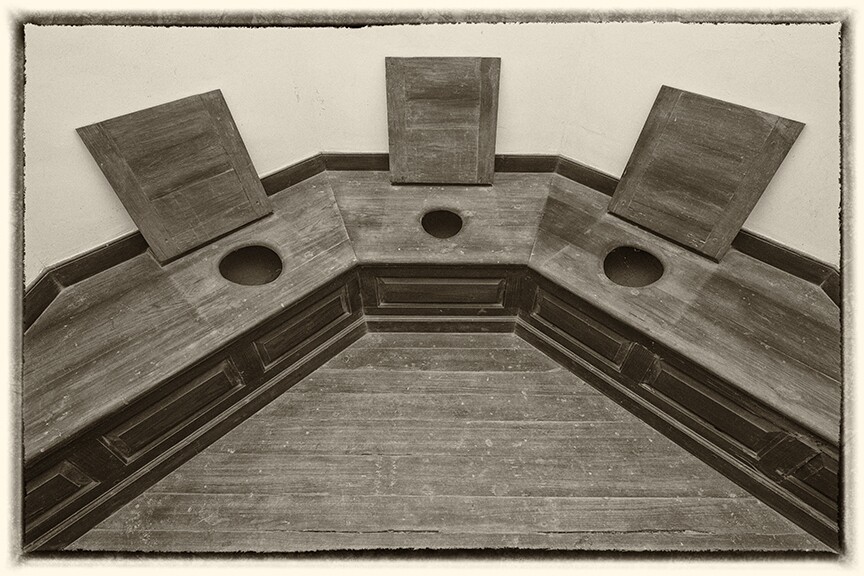 2. For 160 years, the Mount Vernon Ladies' Association has thoughtfully cared for George Washington's home. The privies—historically accurate reproductions—were, like the house itself, designed by the president. "Three-holers" were not uncommon back then. It made me wonder whether conversations impacting our country took place right here. Nowadays, we'd be aghast to sit knee-to-knee in a communal bathroom. What's unthinkable in one culture can be totally accepted in another.
3. In the 1880s, T. Harrison Garrett's family mansion in Baltimore featured a marble mosaic and gilt bathroom with indoor plumbing and hot and cold running water, not to mention a large fireplace. Talk about extravagant: the toilet seat was coated with actual gold, via a gilding process. Mark Twain labeled this era the "Gilded Age," by which he meant things were glittering on the surface but corrupt underneath. In today's world, you don't need to be a Robber Baron to enjoy a luxurious bathroom experience.
4. As a young boy, I took a cross-country trip on a train whose toilets had no plumbing system; when I flushed, I saw my waste deposit directly onto the railroad ties below. I remember keeping the handle in the flush position while I stared straight down, mesmerized by the track bed rushing underneath at 60 mph. With that memory to inspire me, I was determined to find an old railroad car with a toilet. My search was extensive, but I was finally rewarded with this Pullman car in a museum in St. Thomas, Ontario. Some luxury train compartments had their own private toilet. In this case, two such compartments were joined together by opening a partition between them. Each toilet and sink could be retracted and hidden in a metal cabinet. Above the toilet is a sign requesting that the user not flush while the train was in the station.
5. Southeastern Pennsylvania's world-famous Longwood Gardens is home to a unique complex of individual restrooms, lined up along an elegant hallway of greenery befitting a great garden. The stunning restroom interiors make the visitor feel like he/she has entered a space capsule…or perhaps a time machine. This is a place to sit and have soaring thoughts.
6. Most of the abandoned factories I've explored have been stripped of their contents, which are reused elsewhere, sold as scrap or stolen by vandals in search of mementos. What's never disposed of are ceramic toilets, urinals and sinks, which are virtually indestructible but have no value to anyone. This toilet in a long-abandoned textile mill was still in excellent condition, in stark contrast to the walls of peeling paint. The "Please Help Keep This Place Clean" sign added a touch of ironic humor.

FLUSH is available on Amazon. Keywords: FLUSH + Gottlieb $17.50