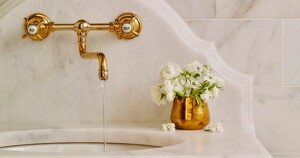 For a spring renovation, make the bathroom of any home a magnificent extension with these spring trends. PureWow recommends:
Using statement wallpaper with "bold, dramatic" prints.
Round mirrors accent tired old medicine cabinets and and a bit of pop to a bathroom.
Don't go with stainless, but instead opt for gold fixtures that that create elegant style.
Suggest to your client that you install trough variety sinks that are fit for a cohabiting couple.
To see other bathroom trends for 2016, click below.

Read more >